Anti-Violence Program
Working to increase access to mental health and supportive services for survivors of domestic violence, intimate partner abus

e and sexual assault.

The Anti-Violence program targets and has expertise in serving LGBTQ survivors of domestic violence, sexual assault and trafficking; as well as all survivors of hate crimes regardless of sexual orientation. The Center does not discriminate on the basis of age, sex, race, ethnicity, creed, national origin, sexual/affectional orientation, gender identity or expression, physical or mental ability, religious practice or preference, HIV status, chemical dependency status, marital status, or pregnancy.
Inside Anti-Violence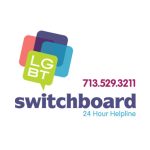 Lesbian. Gay. Bisexual. Transgender.We're answering the call …with no "hang-ups!" Texas residents only, please. *General information and resources are provided only during business hours (Monday-Friday 8am-7pm). Crisis calls are accepted […]
More »
You are a survivor. Being the target of violence can make you feel like you lost something, maybe even a part of yourself. When you leave a violent home, you may lose a lot, including your home, your family, belongings, and financial stability. We are here to help you regain what you've lost, and more importantly, to help you rebuild a life that is safer and more independent.
Survivor Support Services
Crisis Help
The LGBT Switchboard of Houston 713-529-3211 provides crisis counseling and intervention around the clock, even on holidays. 24 hours/day, 7 days/week. (Texas residents only, please.) If you are in immediate physical danger, please call 911. If you are suffering an emotional or domestic crisis, experienced a stranger or non-stranger sexual assault, our trained volunteers and staff are here to listen "with no hang-ups," and provide you with information and resources that to help you make a change when you're ready.
Help is available via the 24 hour hotline, walk-in during normal business hours or advocacy with police, medical, prosecutor or court appointments. We can provide an immediate supportive response in order to reduce acute distress, begin stabilization and assist in determining next steps. If you are being abused by a partner, and are transgender or in a same-sex relationship, we can help you find safe shelter (see below).
Advocacy
A violent crime can turn your world upside down. Our trained specialists can help you identify and prioritize your needs, and connect you with helpful resources that you may not be aware of. Additionally, we can inform you of your rights under the law, and can provide referrals for legal consultation and representation when you are ready. If you are under continued threat of violence, we will help you create a safety plan with housing options and legal/law enforcement protections.
Accompaniment
You don't have to do this alone. Volunteers and staff will accompany you to file a police report, to the hospital for a SANE exam, and to any legal and court appointments. We are here for you.
Counseling
Chronic and/or post-traumatic stress, anxiety and depression are common conditions among violence survivors. They can disrupt your job, education, relationships and in some cases be quite debilitating. Our specially-trained licensed master-level therapists can work with you in individual and group* settings to work through and ultimately overcome these symptoms.
*Admittance to group therapy is based upon results of initial intake and assessment.
Compensation
If you are a survivor or an immediate family member/dependent, you may be eligible for Crime Victims Compensation under state and federal laws as well as other benefits to cover loss of earnings, medical, counseling, transportation and other costs. We can help you gather the necessary documentation and guide you through the process.
Education
The Center can provides public education to your group, school, church or business to increase your knowledge of dynamics of sexual violence, causes and consequences and services available.
Emergency Shelter
The Center has very limited private funds for short-term shelter. If you are in an abusive relationship living with your abuser, the Center may be able to help you find emergency shelter, as well as assist with rapid rehousing. Please call the LGBT Switchboard of Houston at 713-529-3211 for information. If you are in immediate physical danger, please call 911.
View our Homeless Management Information System (HMIS) Data Use and Disclosure policy here.
Client Satisfaction Surveys
Client Complaint Process