Space Rental
Reserve and Rent a Space at the Montrose Center
Meeting and event space is available exclusively for not-for-profit and non-partisan purposes to individuals and organizations on a first-come first-served basis. Please read all Terms of Facility Use prior to submitting a reservation request. It is expected that all event guests adhere to the stated terms, and respect that our facility is primarily for and about the LGBTQ community.
Please contact LGBTQcenter@montrosecenter.org for further inquiries.
How to Reserve a Space
---
1. Find Your Room
Select Your Rooms or Use our room recommendation tool on this page
2. Submit a Reservation Request and Check Availability
Choose the desired date and time of your event, and tell us a little about you and the event. Request must be submitted at least 7 days prior to the event.
3. Confirmation & Billing
You will receive confirmation that we have received your request after you submit. Once a team member approves your room reservation request, you will receive an email with a payment link. Full payment is required before your reservation is secured. If you choose to pay by check or cash, payment must be received and processed at least 72 hours prior to the event to avoid further credit card charges. Please allow 7 business days for approval, or more information from the Montrose Center.
If you have questions or need assistance with this process, please contact us at (713) 529-0037.
Select Your Rooms or Use Our Room Recommendation Tool.
---
OPTION 1
We'll Find a Room For You
Not sure which room to choose? Tell us a little info about your event, and we can help you find the perfect space.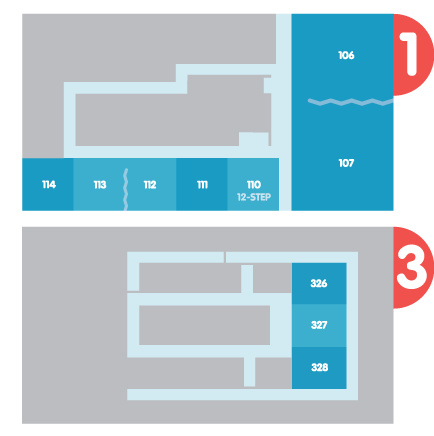 ROOM INFORMATION
OPTION 2
Select Your Room
Do you already know which room(s) you wish to rent? Jump to it here, and submit your reservation request!