Our Leadership
Executive Leadership
Ann J. Robison, PhD
Executive Director
In 1988, Ann Robison was hired to lead the 13-person behavioral health organization known then as Montrose Counseling Center. Dr. Robison has transformed that small agency with its $385,000 budget to the multi-service LGBTQ community center that exists today, with an annual budget exceeding $6 million. Dr. Robison's vision to develop programs that improve the quality of life and outcomes for consumers has been instrumental in this growth. Her background as an anti-violence advocate led her to found Texas's first domestic violence/sexual assault/hate crimes services specifically for LGBTQ survivors. Her Ph.D. from the University of Texas School of Public Health lends a holistic view of service to the community. That perspective led to the rescue of two struggling organizations – a 24-hour crisis hotline (the LGBT Switchboard) and the oldest LGBTQ youth organization in Texas (Hatch Youth) – by bringing them under the Center's wing and providing an infrastructure and setting in which they could thrive. Under Dr. Robison's leadership, the Center staff and volunteers have integrated behavioral health with primary care, developed senior services and youth homeless prevention services. She also saw a need for a centralized Cultural Center offering community meeting space and synergy with small LGBTQ non-profit partners. With Ann Robison's leadership, the Montrose Center has flourished as a first-class LGBTQ center with a national reputation.

Dr. Robison is a founding board member of the Network of Behavioral Health Providers. This organization brings together the majority of behavioral health providers in Harris and Fort Bend Counties to collaborate on joint projects and advocate with a collective voice for consumers.
---
Will Batts
Chief Operating Officer
For the past ten years Will has served as the Executive Director of OUTMemphis: The LGBTQ Community Center for the Mid-South. Outside of work, Will lives with his husband and two children: Addison – six, and James – eight. In addition to having a passion for activism, Will is also a huge movie buff. Not just any movies though– he has a preference for older films from the 1960s and beyond!

He has served as a Grand Marshal for the MidSouth Pride Parade, received a certificate of appreciation from the City of Memphis for "outstanding and meritorious service to the community," a Visionary Award from Focus Magazine Awards (Memphis), and a Mayoral Proclamation "to congratulate and celebrate Will Batts for his 13 years of exceptional service to the people of Memphis and Shelby County."

Will holds a BS in Psychology from the University of Tennessee, Chattanooga, and has completed 67 hours of Ph.D. in Education, Counseling Psychology, University of Tennessee, Knoxville.
---
Gary Powers, CMA
Finance Director
Gary received a Bachelor of Science from the State University of New York at Binghamton, certification from The Institute of Certified Management Accounts in 2011, and possesses more than 25 years of experience in finance administration. Gary hails from Islip, New York, but has been in Houston for 17 years where he lives with his wife, Cheri, and their 16-year-old daughter, four dogs and two cats. He has an adult stepson. Gary and his team are responsible for all aspects of the financial management of the Center, including accounting, reporting, budgeting and financial analysis. Additionally, Gary is responsible for developing administrative policies and procedures within any standards of care that guide program services and establish accountability to the management team and Board of Directors. We trust Gary's judgment despite the fact that he is a life-long Yankees fan.
---
Kennedy Loftin
Chief Development Officer
Kennedy "Kent" Loftin is a driven nonprofit development professional who learned about the dignity of hard work from his grandfather on their East Texas farm. A Texas native born, raised, and educated in the Houston area, Kent began his career in development in the city as well. Soon thereafter he was invited to serve as the Director of Special Events for Miami-based Best Buddies International, a position which gave him the opportunity to liaise with celebrity partners and plan high-profile events with broad global impact. In 2008, Kent returned home to Houston to serve as executive director for Best Buddies Texas, and was the youngest executive director in the history of the organization. Kent was tapped to become the Director of Development for Interfaith Ministries in 2008. During his tenure, the organization grew its annual campaign by 30%, increased their donor base by 63%, and completed a $14.5 million capital campaign for the new Meals on Wheels building. Kent is a sought-after development educator and leader in the industry, with guest teaching at Rice University, Glasscock School Center for Philanthropy and Nonprofit Leadership. In his spare time, Kent is a devoted fan of live music, sparkling wine, and delicious foods.
---
Kyle Leisher, LPC
Chief Behavioral Health Officer
Kyle Leisher began his time with the Montrose Center as a Licensed Professional Counselor – Intern working as a Staff Therapist in the Anti-Violence Program in late 2013. During this time, Kyle honed his counseling skills by working with victims of violence and abuse, as well as conducting outreach to communities and participating in panels focused on increasing awareness of sexual abuse, domestic violence, and hate crimes within the LGBTQ+ community. After three years as a staff therapist, he took on the role as the Center's Compliance and Admissions Coordinator. Kyle has a passion for quality improvement, and has spearheaded several projects at the Center that have focused on improving the quality of care provided to clients. Kyle also works diligently to ensure that the working environment is conducive to allowing staff to provide the highest levels of care to their clients. Kyle makes it his personal goal to ensure that all clients at the Center are treated in a dignified manner and can access the care they need to improve their quality of life. Kyle holds a Masters of Counseling Psychology degree from Northwestern Oklahoma State University. In his free time, Kyle can be found spending time with his wife and two sons, Jase and Jackson. Kyle is also an avid woodworker, a hobby which his sons enjoy helping with as much as they can.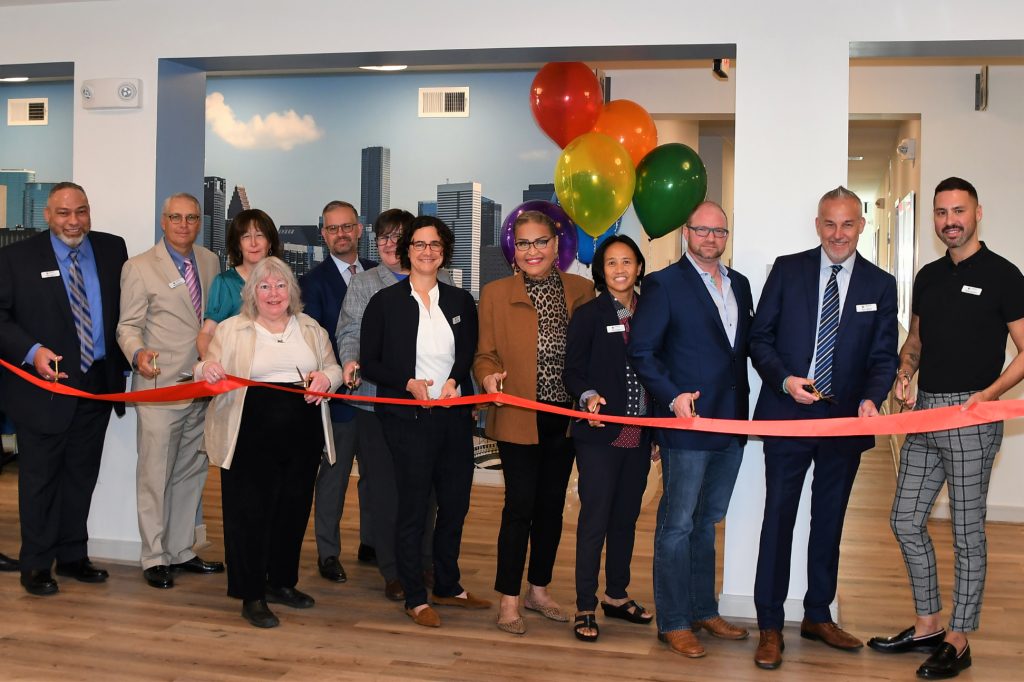 Board of Directors 2022-2023
the Montrose Center
| | |
| --- | --- |
| Tara Kelly | President |
| Gary Wood, CPC, CTS | Vice President |
| Mark Jacobs, MBA | Treasurer |
| Paul W. Guillory | Secretary |
| Tina Burgos | At-Large |
| Jude Anderson, MUP | |
| Clark Caperton, MPA | |
| Bryan Cotton | |
| Christopher Delphin, JD | |
| Jani Lopez | |
| David Ramirez | |
| Jane Robinson, JD | |
| Nancy Sims, MLA | |
Montrose Counseling Center Permanent Endowment
| | |
| --- | --- |
| Ralph J. Herring, OD, MHA | President |
| Michael Sirimaturos, PharmD, BCNSP | Vice President |
| Jason Doxey | Treasurer |
| Vacant | Secretary |
| Jim Bailey | |
| George Grant | |
| Chris Robertson | |
| Horacio Rodriguez | |