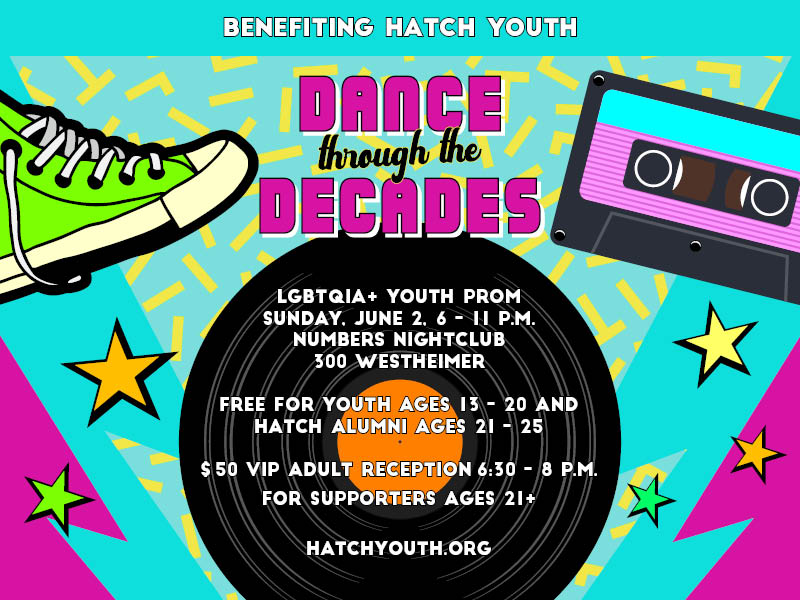 LGBTQIA Youth Prom – Dance Through the Decades
Benefiting Hatch Youth
Sunday, June 2, 6-11p
@ Numbers Nightclub, 300 Westheimer
This event is free for youth, ages 13-20. Everyone is welcome, no need to RSVP!
There will lots of dancing, crowning of Prom royalty, photo booth, door prizes, and a spread of appetizers and beverages. Free on-site hair and makeup services available for youth, donated by local stylists, 5:30-7:30p.
Parents & Hatch Alumni are welcome too. Alumni, ages 21-25, are free. Parents and Hatch alumni, ages 25+, may attend youth prom downstairs for a donation of $25. Please note that all adults downstairs with the youth must undergo a background check.
Hatch Youth supporters are invited to attend the VIP Adult Reception upstairs, 6:30-8p, for a donation of $50. This will be a separate party, overlooking the dance floor, with hors d'oeuvres and adult beverages available.
Attire: Your favorite Decade (20s-90s), Age (Renaissance, Victorian, etc.), Prom or Business attire.
Prom is Hatch Youth's biggest annual fundraiser, and it wouldn't be possible without the generous support of local companies and community members.
Thank you to our generous Event Sponsors!
Numbers Nightclub
Microsoft
Asurion
HEB
Scatterlight Photos
Snooze an AM Eatery
Tiff's Treats
Panera Bread
Sprinkles
Chuy's
Freebirds World Burrito
Raising Cane's
Tacos a Go Go