H-E-B Emergency Pantry

Throughout the year, clients of the Montrose Center who are in crisis or transition have ready access to supplies, ready-to-eat food items and hygiene supplies as necessary through our H-E-B Emergency Pantry. This fills a crucial gap for those who need immediate help but cannot access regular food bank or nutrition programs.
We provide food boxes to clients of the Montrose Center in need of supplemental food assistance. If you are a client in need of food, please contact your case manager for assistance.
If you are not a client of the Montrose Center, you must first go through eligibility and the client intake process.
Unlike other food assistance programs, pantry access is limited to individuals who are already receiving case management or advocacy services at the Center. It is 100% community and corporate sponsored.
PANTRY DONATIONS
Donations are always needed and welcomed. Food items must be nonperishable and ready-to-eat (no cooking required) and not expired. You may deliver donations to us at 401 Branard, 2nd floor (77006) anytime Monday through Friday from 8am to 5pm.
Requested Food Items:
Bottled water
Single-serving pop-open canned chili
Single-serving pop-open Chef Boyardee
Ready-to-eat individually packaged tuna salad
Ready-to-eat individually packaged chicken salad
Ready-to-eat microwavable Mac 'N Cheese cups
Individual servings of cereal
Instant oatmeal
Rice
Canned spaghetti or pasta
Dry or pop-open canned soup
Peanut butter and cracker packages
Cheese and cracker packages
Snack-size crackers
Snack-size pretzels
Granola bars
Snack-size individually packaged fruit salad or peaches
Peanut Butter
Jelly / Preserves
Requested Hygiene Supplies:
We are in need of the following items, both in travel/trial sizes, for those staying at shelters, and in regular sizes, for those with more stable housing.
Shampoo/Conditioner
Toothpaste
Toothbrushes
Deodorant
Body soap
Underwear (all sizes, for men & women)
Toilet paper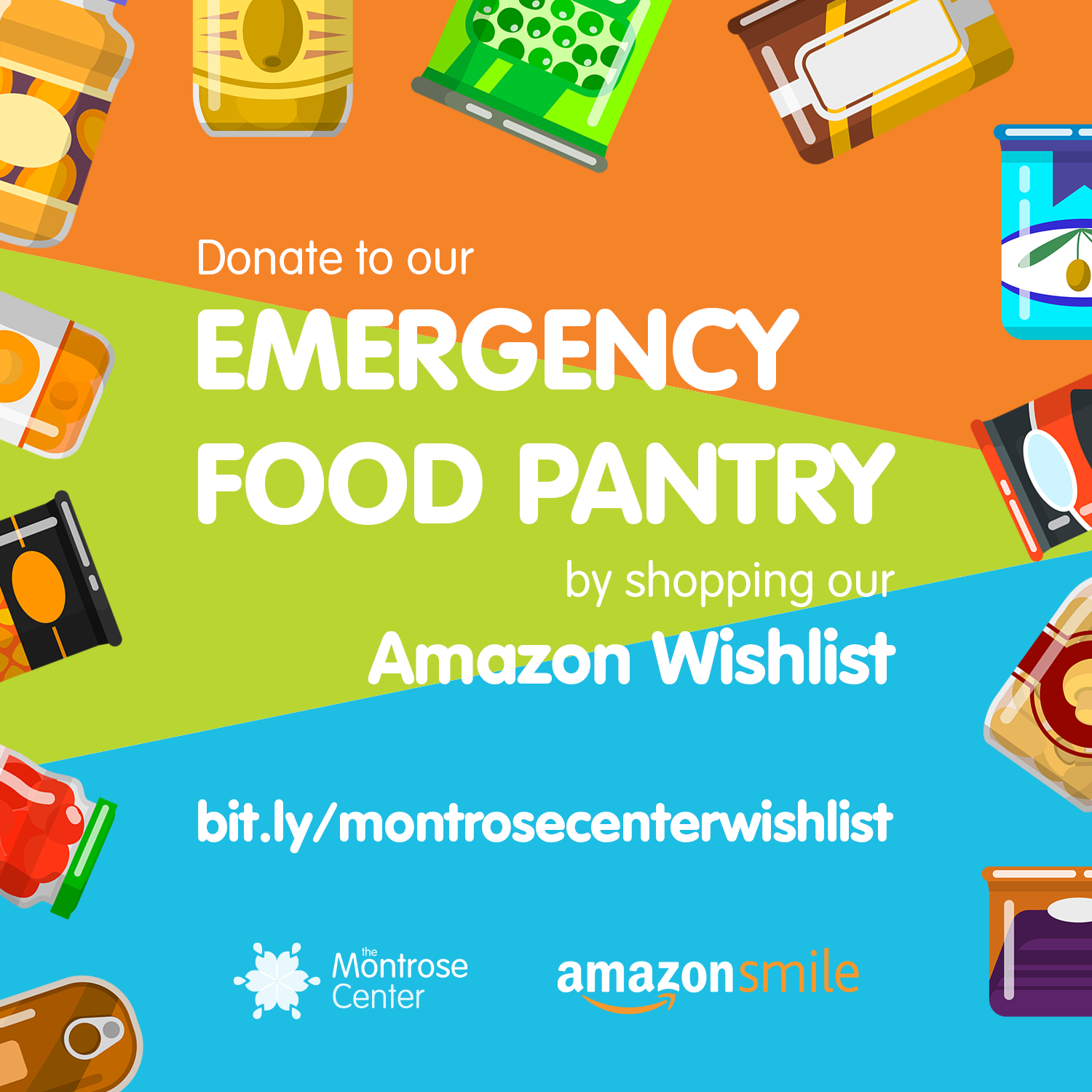 Questions? Contact Us!
All questions regarding our Emergency Pantry can be directed to Meleah Jones, Director of Development. She can be reached at mjones@montrosecenter.org or at (713) 529-0037 ext. 372.