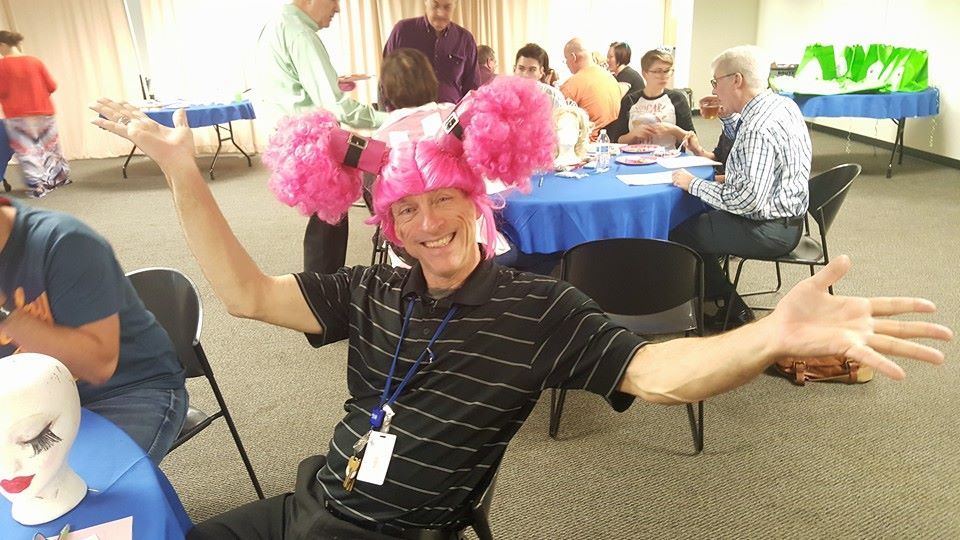 Fred (in an fabulous wig) at our Wig & Pie themed Volunteer Appreciation event
Let's start with the basics. Who are you?! 🙂
Fred Reninger: Peer Wellness Specialist, SPRY Diner Manager, Certified Marketplace Navigator, Community Health Worker and Montrose Center Volunteer.
What might (someone) be surprised to know about you?
I grew up owning and working with horses, including one of the top Arabian Horse Farms in the county, Stachowski Farms
Tell me how you first got involved in with The Montrose Center
My initial involvement with the Montrose Center was 23 years ago. I had been diagnosed HIV+ and received Case Management services at the then "Montrose Counseling Center".
What was your first impression of The Montrose Center?
Safe Haven where I would not be judged based on my sexual orientation or HIV+ status.
What's your first memory of the Montrose Center?
Calling the Montrose Counseling Center (around 25 years ago) in search of mental health counseling and hanging up when my call was answered due to feeling embarrassed about being anxious and depressed.
What has surprised you most about working with The Montrose Center?
All of the great staff, clients and volunteers that I've met and worked with.
When you last volunteered, how did that make you feel?
I volunteered for the Kindred Spirits Dance Kick-Off Party on July 23rd and 24th and felt excited to be involved with raising funds for SPRY Women's Services and other community organizations that service Lesbians and other LGBTQ community members.
What do you wish other people knew about the Montrose Center?
That we are here!
Tell me about some of the people you've met while working with the Montrose Center?
I've met many LGBTQ Seniors who endured many forms of homophobia throughout their lives and are now able to be who they are and feel safer than earlier in life. I've met a WWII Veteran, many other Veterans and many LGBT people who gave birth to our movement at local, state and national levels.
What would you say are some of your strongest beliefs about LGBT community?
We're strong. The LGBTQ community has come very far over the past 40 years, and will still have further to go towards full equality.
When your friends/family find out that you interned/volunteered, what do they say or ask?
My friends and family commend me for my work and volunteer efforts at the Montrose Center and with other community organizations. Some ask how they can donate funds and/or time to help maintain and expand our services.
Tell me about someone who had influenced your decision to work with the Montrose Center?
My therapist encouraged me to volunteer at the Montrose Center. Andrea Washington was a Program Coordinator that encouraged me to apply for a part-time Peer Wellness Specialist position.
What would you tell someone who is thinking about volunteering?
Just do it!
What do you think will change about the LBGT community over the next five years?
What I know that needs to change is more effort put forth to serve the aging and elderly LGBTQ population. Much emphasis is placed on youth, and rightfully so, but as more of us age and live longer our elders and their needs must be made a  higher priority.
How would (someone) describe you and your personality?
Dedicated, detail oriented, empathetic, calming with a somewhat twisted sense of humor
What do you do when you aren't working?
Spending time with my canine companion Rafael, gardening, volunteering