The Cairo 52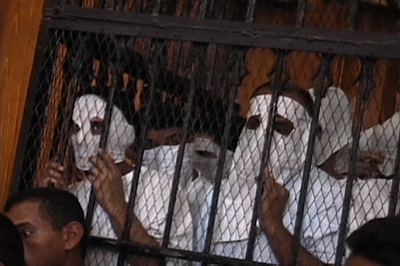 The Cairo 52 were masked and held together in a mass cell.
In the 90s, word was spreading through the LGBT community in Egypt, and even through some nearby Middle Eastern countries, that the vibrant city of Cairo was the place to be.
There was a rapidly expanding gay scene, and people traveled from nearby to be a part of it. There were bars and discos and plenty of public meeting places in the city center where it was relatively easy to socialize, exchange cellphone numbers, hold hands and perhaps sneak public affection.
Of course, this does not mean the LGBT community lived a carefree life. There was still rampant homophobia in the country. However, amongst the community, Cairo was becoming a Middle Eastern refuge.
However, in the wee hours of the morning on May 11, 2001, Fifty-two men were arrested on a floating gay nightclub called the Queen Boat. Most of them were charged with "habitual debauchery" and "obscene behavior". The trials last 5 months, after the men had been imprisoned for a year prior, and have been subjected to horrible abuse. Fifty of the men, now known as the Cairo 52, were acquitted of all charges. The United Nations publicly condemned Egypt's justice system for this act, and with news of a possible re-trial, most of the men fled to different countries.