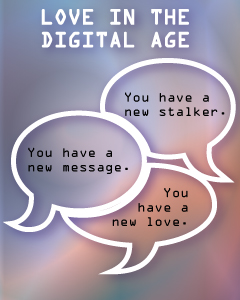 By Karen Jubert, M.Ed., LPC Intern
If you can't be with the one you love or if you're looking for love, you have probably heard that many people are using Facebook, Skype, IM, Chat, Second Life, Tinder and other on-line dating apps/sites to connect with a current or hopefully new love!  So, this begs to ask, is love in the digital age as fun, flirty and exciting as traditional friendships and relationships? We're not talking about strictly hook-up sights.
There's a whole generation of Romeos and Juliets who don't know about corded telephones, nor about sending a handwritten love letter or note to someone.  Now we have tech-savvy beloveds who'd rather whisper their sweet nothings over instant messages, text messages, e-mail, Facebook or Skype.
How much has the Internet changed modern-day love?  An annual study by Havas Worldwide found that online romancing is becoming just as real as offline interaction for millennials and that online dating is more mainstream.
Do you know about the online program where people create avatars and virtual worlds to represent themselves?  You can start a new kinship as an avatar pal and before you know it, the acquaintance becomes a friendship and the friendship turns romantic; then you may decide to take your relationship to the next level by chatting to "talk outside of being avatars." Some suitors aren't interested in a real-life relationship, just the virtual kind where they are all too happy to e-mail, text, tweet, IM or post on your Facebook wall.  Some think this is awesome, while others think that it is impersonal.
Now, there is a dark side to "digital love." While the Internet makes it easier to connect, some believe it also makes it easier to cheat.  Also, how do you deal with digital memories after a breakup?  And, there is the risk of people fudging the truth on online dating sites.
Regarding our LGBT youth, and even some adults who are new to a relationship, boundaries can be a serious issue, especially with technology.  It's not at all unusual for a girlfriend or boyfriend to take their partner's cell phone and start looking at all their text messages.  There also is the risk of a parents finding content on a phone or computer that discloses their child's sexual orientation. What about those who use technology to stalk their partners or even use abusive e-messaging?  It is not uncommon for teens in a relationship to share their passwords to social networking sites, like Facebook or Instagram, with their boyfriend or girlfriend.  The sharing of the password is a potential sign of trust building, but if the relationship goes sour, that becomes a real heartache as a way to exact revenge. Teens can get in trouble with sexting – sending sexually suggestive photos or videos via cell phone. This becomes a serious problem when photos wind up in the wrong hands after being sent from one person to another via phone, sometimes ending up on the Internet. And if any of the parties is under 17, the government is taking steps to file charges of possession of child pornography.
So, is it safe to say, welcome to the world of the "elationship"?  One has said that with text, "You're forced to write, and be descriptive, and reveal more of yourself to your partner than you would face to face, and this seems more comfortable." While another has said, "Every human being longs for some physical interaction, like a hug, even if it's just a smile. You can't get that through pixels so easily and it is a feeling that is never duplicated on Skype, instant messages or phone conversations."
Despite some criticism, no one can deny that technologically-aided flirting is both popular and convenient. How effective this method is for finding or keeping love is ultimately up to the persons involved, their communication skills and their judgement.  When it comes to actually building a relationship, getting to know someone and eventually falling in love, always keep our head and heart connected!  It worked for me!