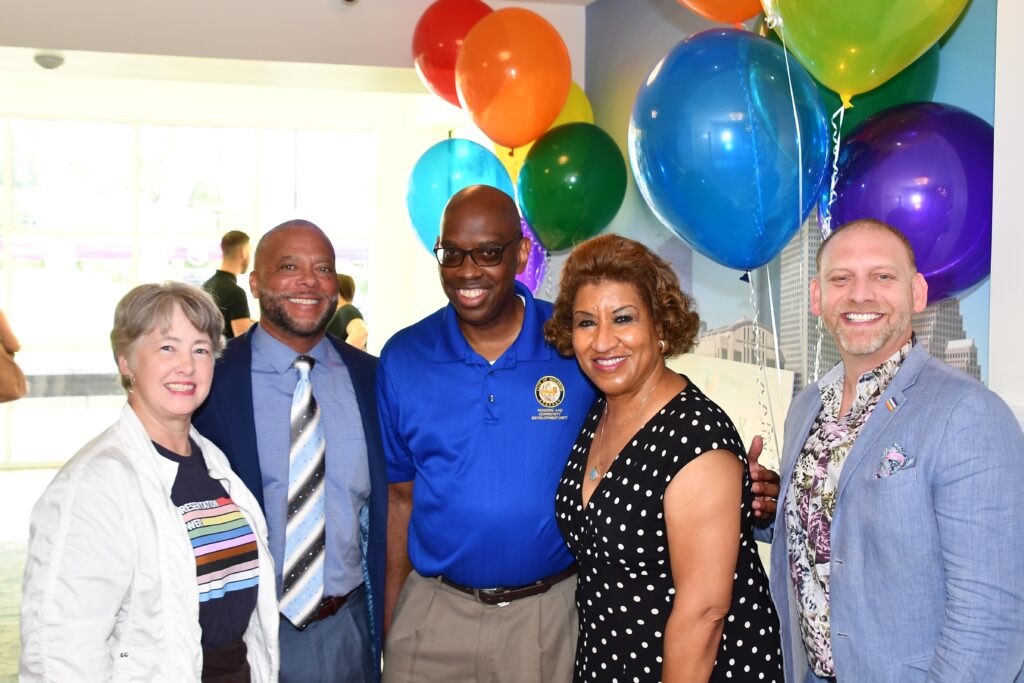 Thank you for celebrating this milestone with us!
Thank you to everyone who attended and supported Thursday, June 24's grand opening of the Law Harrington Senior Living Center. More than 600 community members united to celebrate the 1st LGBTQ-affirming senior living center in Texas, and the largest of its kind in the nation!
Ribbon Cutting
The day began with a ribbon cutting ceremony with local politicians and sponsors of the capital campaign that made the building possible. Speakers included Mayor Sylvester Turner, Former Mayor Annise Parker, Executive Director Ann J. Robison, PhD, Housing and Community Development Director Tom McCasland, representing the Midtown Redevelopment Authority Algenita Scott Davis, Representative of Council Member Carolyn Evans-Shabazz (District D), Houston Regional President for PNC Financial Services Group Julie Sudduth, Founder and Principal Architect of Smith & Company Architects Terry Smith, Legacy Community Health Chief Executive Officer Katy Caldwell, U.S. Representative Sheila Jackson Lee (TX-18), President of the Board of Directors of the Montrose Center Tara M. Kelly, and resident Dina Jacobs.
Remarks included sincere gratitude to the following individuals and corporations that made the building possible: Former Mayor Annise Parker and Texas House Representative Garnet Coleman (D-Houston), Chairs of the capital campaign, Mayor Sylvester Turner and all of City Council for supporting the project, Midtown Redevelopment Authority, National Equity Fund, Texas Commission on Housing & Community Affairs, City of Houston – Housing and Community Development, BBVA/PNC Financial Services Group, Terry Smith of Smith & Company Architects, Stephan Fairfield of Covenant Community Capital, David Joyce and team of Camden, Georgeanne Longoria of Hettig/Kahn Companies, the Kinder Foundation, John Steven Kellett Foundation, Terry Baggott of the LTR Lewis Cloverdale Foundation, and the Hollyfield Foundation.
Grand Opening Receptions
That evening, more than 500 community members and residents joined us for the grand opening celebration. Back-to-back Wizard of Oz themed receptions celebrated the fact that LGBTQ+ and Third Ward-seniors can now say, "There's no place like home." Local drag performers Dina Jacobs, Lana Blake, and Muffy Vanderbilt III celebrated with songs about the importance of home, and Angelina DM Trailz wowed the audience with her immense talent on the violin. Adriana LaRue and Leilani L. Jackson-Lee stunned as drag versions of the Cowardly Lion and Glinda the Good Witch.
The event featured a self-directed Yellow Brick Road tour of the facility's club house, on-site geriatric medical clinic, multi-purpose room, fitness center, library, senior services suite, outdoor courtyards, garden, dog park, and model apartment unit. David Alcorta Catering impressed us with appetizers and desserts, and the Brunch Bus food truck was on-site. Eureka Heights Brew Co. donated beer for our guests to enjoy.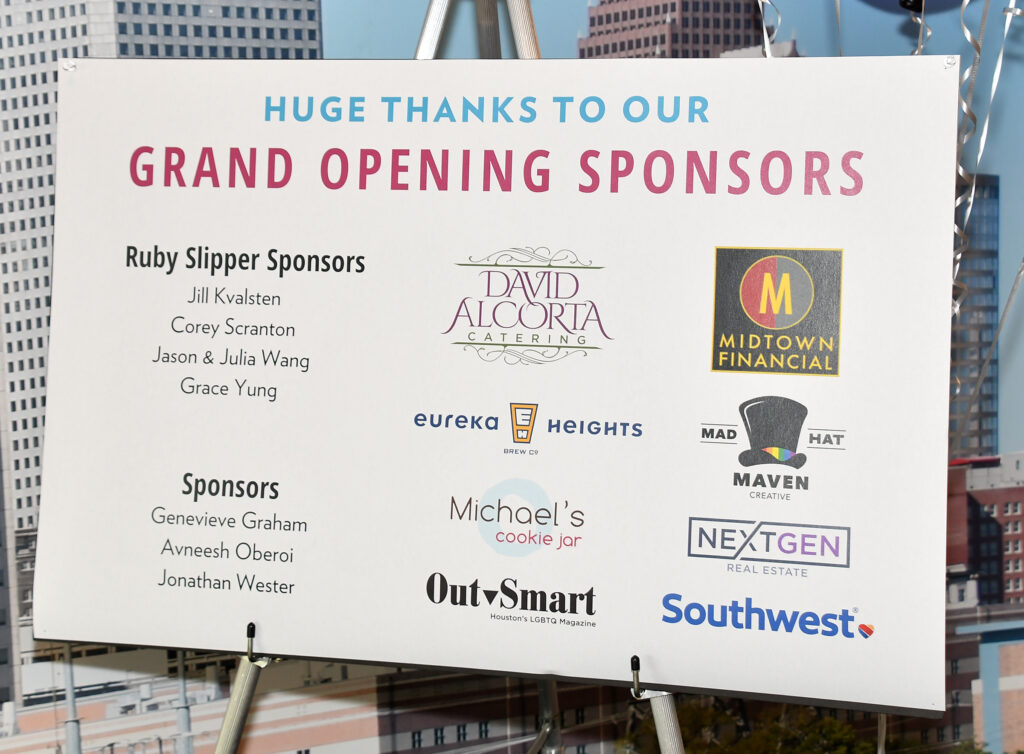 Thank You to Our Event Sponsors
Huge thanks to the event sponsors, who made the grand opening possible: Ruby Slipper Event Sponsors Jill Kvalsten, Corey Scranton, Jason & Julia Wang, and Grace Yung, Sponsors Marc Archuleta, Genevieve Graham, Avneesh Oberoi, and Jonathan Wester, and Corporate Sponsors David Alcorta Catering, Midtown Financial Group LLC, Eureka Heights Brew Co., Mat Hat Maven Creative, Michael's Cookie Jar, NextGen Real Estate, OutSmart Magazine, and Southwest Airlines.

To learn more or to make a donation, please visit bit.ly/grandopeninglawharrington
Ribbon Cutting Photo Gallery
Thank you to everyone who joined us for the Ribbon Cutting!
Grand Opening Photo Gallery
We loved celebrating with you! Thank you to everyone who joined us.