Our 2nd Annual Job Fair is Both Hiring Event & Career Expo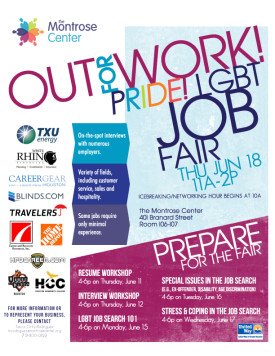 Our Wellness Program knows how stressful being out of work is, financially and emotionally. And that's going to make it harder to hold on to your health, your relationships, and your general outlook on life. both a hiring event and a career expo: equal opportunity employers will be able to meet with and interview job seekers, accept applications, and/or hire on the spot; career and employment agencies will have the opportunity to promote their services, programs, and career tracks to people who are exploring career options. Click here for a list of Employers, the positions they're hiring, and Employee Resources.

Date:  June 18, 2015
Time:  11a – 2pm
Room:  106/107
Please feel free to join us for a one-hour icebreaking/networking event in Room 111 before the fair. That way we can give you a pep talk and get you ready to meet with potential employers.
In order to Prepare for the Fair, we'll be holding daily workshops leading up to the event so you can get your resume in order and brush up on your interview skills. No appointment is necessary. The rooms for the workshops may change, so please check the monitor outside the elevator on the Cultural Center floor on the day of the event.
Resume Workshop
4-6pm on Thursday, June 11
Interview Workshop
4-6pm on Friday, June 12
LGBT Job Search 101 CANCELED DUE TO INCLEMENT WEATHER
4-6pm on Monday, June 13 Will be rescheduled… TBD
Special issues in the Job Search (e.g., ex-offender, disability, age discrimination)
4-6pm on Tuesday, June 16
Stress and Coping in the Job Search
4-6pm on Wednesday, June 17
Our Out for Work! Job Fair Partners
If you would like to send a representative of your business to the Pride Job Fair, please contact Tierra Ortiz-Rodriguez at 713-800-0822.