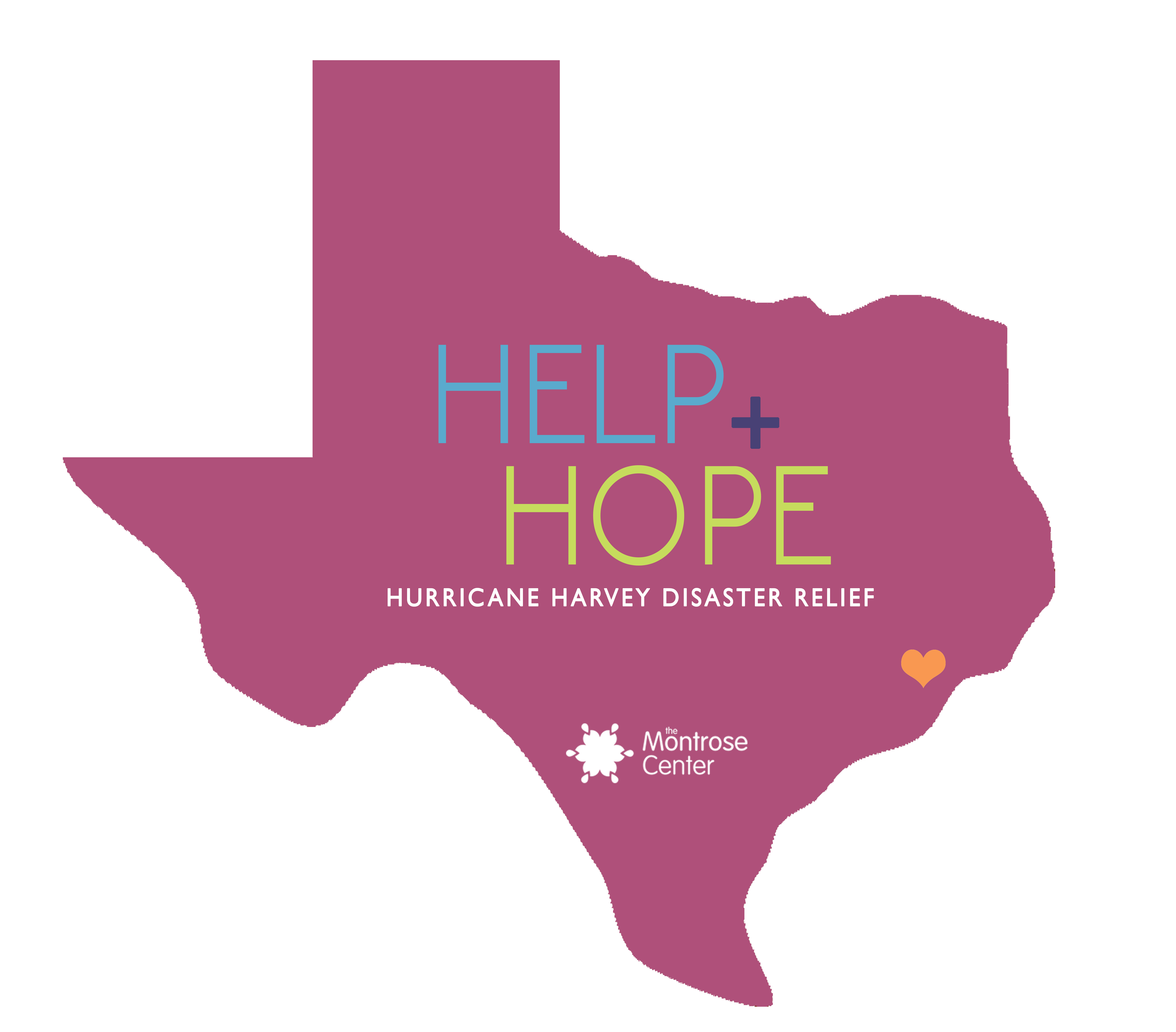 Thanks to the tremendous trust of the community both locally and nationally, the Hurricane Harvey LGBTQ Disaster Relief Fund has been able to raise $1,269,680 to help our LGBTQ community members who have experienced loss of homes, possessions, and hope by Hurricane Harvey. To date, 1,038 clients have signed up for support from the Center – which has hired three new staff members to meet this pressing need. The Center is committed to rebuilding the LGBTQ community in Houston for the weeks, months, and years to come.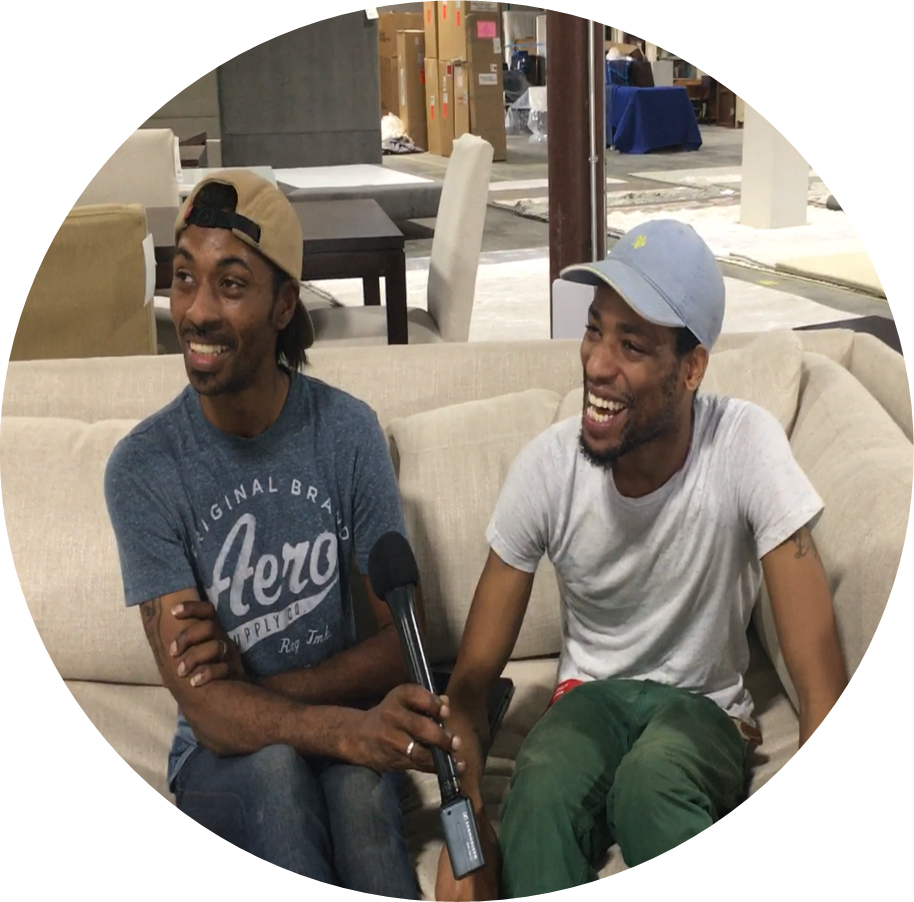 Center clients Joseph and Tario were of the group of individuals that the Center supported by providing new furniture as a part of a collaboration with Mitchell Gold + Bob Williams on Furniture Day:
So we actually just moved here from Virginia basically a week before Hurricane Harvey hit, And when Hurricane Harvey hit we lost everything in our town house. And I was actually at work during the Hurricane.
I was the one who had to get evacuated and then the shelters were closed so I had to walk back home in all the water and stuff. I was stranded for about three or four days until about half of the water just went away. But yeah, like he said we lost all of our furniture and everything… During the storm I was online trying to find some resources and some type of help and the Montrose Center actually reached back out to me after I had reached out to them. It was unexpected when they called me and said 'you guys can come on down', and I was like 'oh, great' because we were actually trying to get furniture from out of the trash. So this is great.
We greatly appreciate it. Coming from an area where a lot of outreach does not happen we are just very, very grateful for it.
---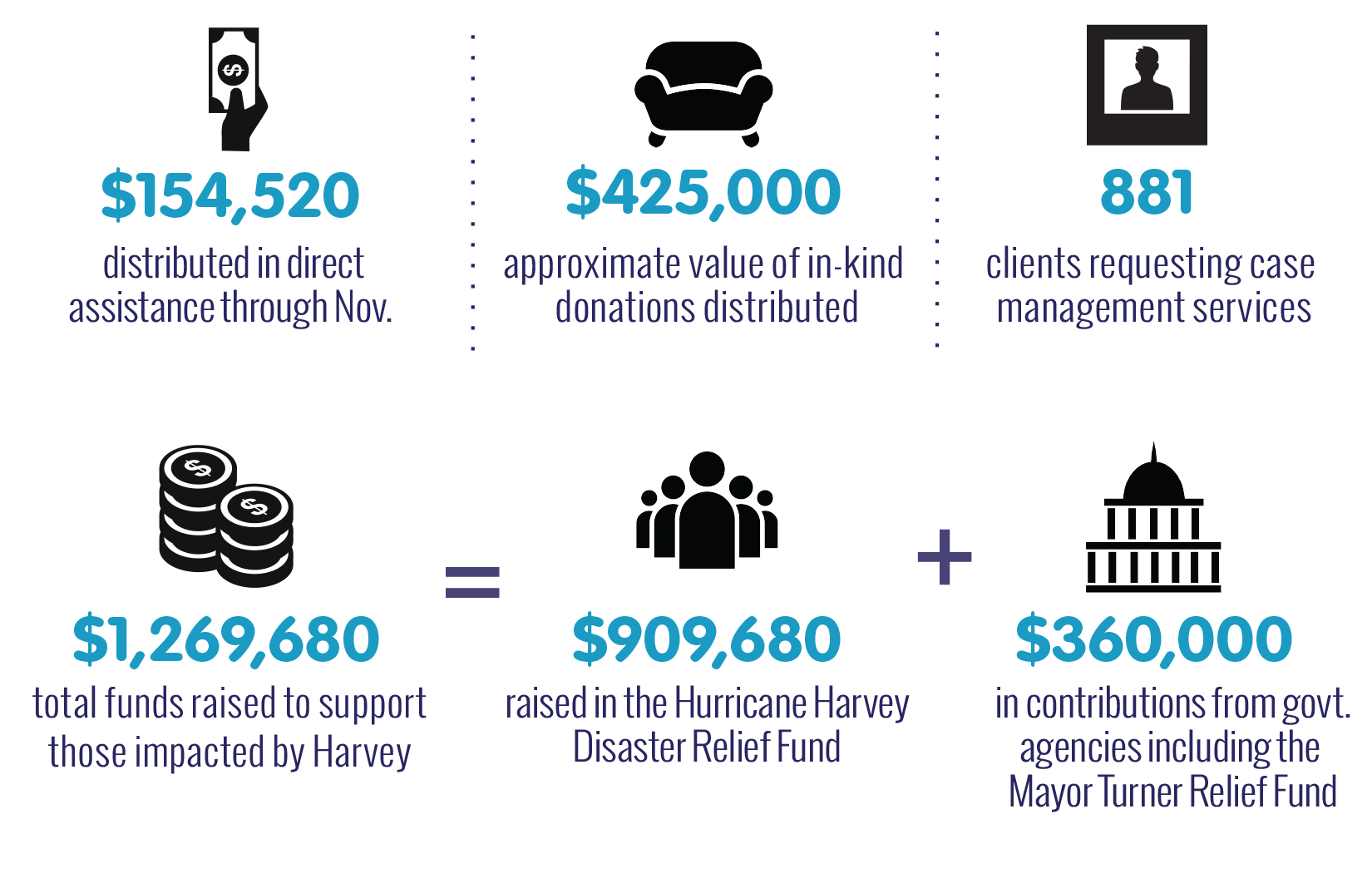 ---

713.529.0037
---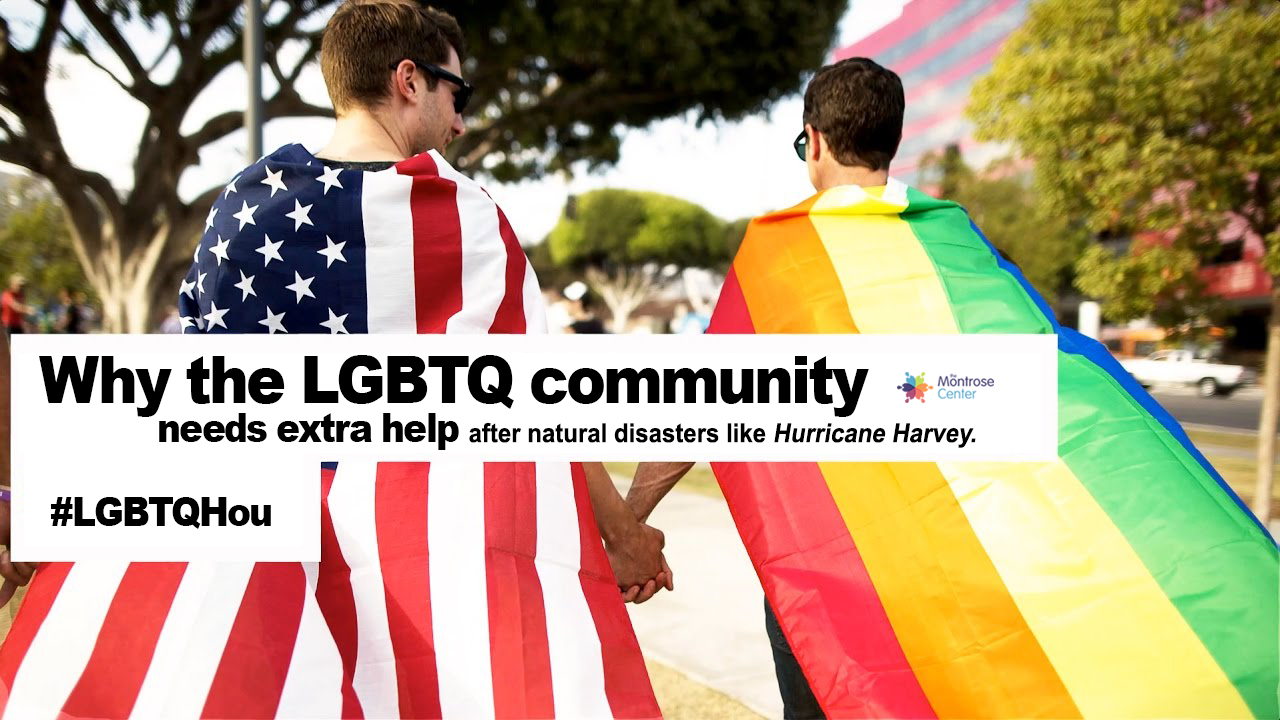 As Houston's LGBTQ Center, we have been inundated with love and support in the wake of Hurricane Harvey. We are humbled and honored by the support of so many, who have made donations to the Hurricane Harvey LGBTQ Disaster Relief Fund that will help community members rebuild their lives in the coming weeks and months.
Huge thanks go out to the celebrities who helped bring attention to our cause. People like Hillary Clinton, who emailed about our fund. Celebrities like Jack Antonoff, Ruby Rose, Lena Dunham , Tig Notaro & more, who pledged donations and encouraged others to do the same.
Sadly, Ruby Rose and others received backlash from some people, who don't understand why the LGBTQ community needs extra support in the face of natural disasters. To read the Huffington Post's article about the backlash, and Ruby Rose's response to it, please click here.
Rather than be upset by their comments, we thought we'd take the opportunity to educate about our community's particular needs.
Why are  culturally competent, allocated resources for the LGBTQ community necessary?
LGBTQ youth experience high rates of homelessness, making it more difficult to reach them during an emergency.
High rates of isolation for LGBTQ seniors means they are more likely to be alone, and less likely to have familial resources that can support receiving emergency messages and accessing resources.
Access to HIV medication or hormones can be limited or nonexistent as providers are unavailable or undervalue the importance of maintaining these regimens and shelter accommodations are often not compliant with appropriately affirming gender identity.
The LGBTQ population also has a significant lack of trust with emergency responders and health care systems that have discriminated against them before.
Nontraditional structures of families are frequently disrespected by emergency or recovery services resulting in families that become separated or are unable to access appropriate resources.
That's where we step in.
The Montrose Center's Hurricane Harvey LGBTQ Disaster Relief Fund is designed to provide services to those that are traditionally overlooked and have unique needs. The management of these allocated resources by a trusted community institution that understands the needs of this population is imperative.
The Relief Fund will be used to help individuals and families begin to rebuild their lives through direct assistance with shelf stable food, furniture, housing assistance and more. The Center's dedicated case management team is on call to coordinate support for homeless youth, seniors, people living with HIV, hate crime survivors, Center staff, and those devastated by the storm.
How you can help
To learn more about the  Hurricane Harvey LGBTQ Disaster Relief Fund or to make a donation, please click here.
For updates about our in-kind and volunteer needs, please click here.