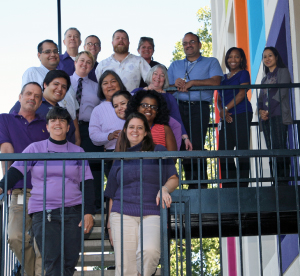 There is no end to what we can do together.
If you do one thing to observe LGBT Community Center Awareness Day, simply find something on our website that you didn't already know about and share it with one other person.
Oh sure, we are the leading provider of behavioral health services for Houston's LGBT community, and that includes our substance abuse treatment program. But we also are home to several other LGBT nonprofits that call the Montrose Center home, including Dignity Houston, Lesbian Health Initiative of Houston, PFLAG/Houston Chapter, Pride Houston, and Young Invincibles Houston. We couldn't even begin to list all of the groups that meet at the Center, from the National Leather Association to fundraising groups like Kindred Spirits, Bunnies on the Bayou to nightly 12-Step groups to assist you in your recovery. We run Hatch Youth, Texas's oldest LGBTQIA youth program, and offer a free lunch program, support and activities for seniors. Add to that the Cyber Center and our Wellness activities like Yoga, Meditation, Walking/Running groups and Peer Support Groups.
Houston is a diverse city, and we are a diverse community. We celebrate that, and through local LGBT Community Centers like the Montrose Center, we are able to connect with each other.