Last Friday, March 10, the Montrose Center held our 31st annual St. Patrick's Day/Mardi Gras party Bringin' in the Green, which broke records and raised $75,000!
Huge thanks to our generous host Chris Robertson for opening his home to our 385 guests and for underwriting the costs of the event. Chris' gorgeous home includes three stories, beautiful balconies, and a rooftop patio overlooking Montrose and offering a view of downtown. The upstairs spaces provided an enhanced VIP experience for sponsors of the event.
Our sincerest thanks to Pot O' Gold sponsors Glenn and Justin Dickson for their $10,000 matching gift, which doubled the impact of our guests' support. Funds raised at Bringin' in the Green benefit housing services for LGBTQ youth who are experiencing homelessness, including rental assistance, food and home goods, and case management services to help our youth start their lives as self-sufficient adults.
In addition to catching up with old friends, the party also included a raffle and a silent auction for luxury goods! Auction items included a week stay in Puerto Vallarta donated by Concierge Travel, private wine class donated by Nice Winery, a party on the patio donated by The Ballroom at Bayou Place, round trip airfare provided by Southwest Airlines, an art piece created during the party by Touched by Tay, and much more. The money raised from the raffle prizes and the silent auction bids go directly to youth rapid rehousing services as well.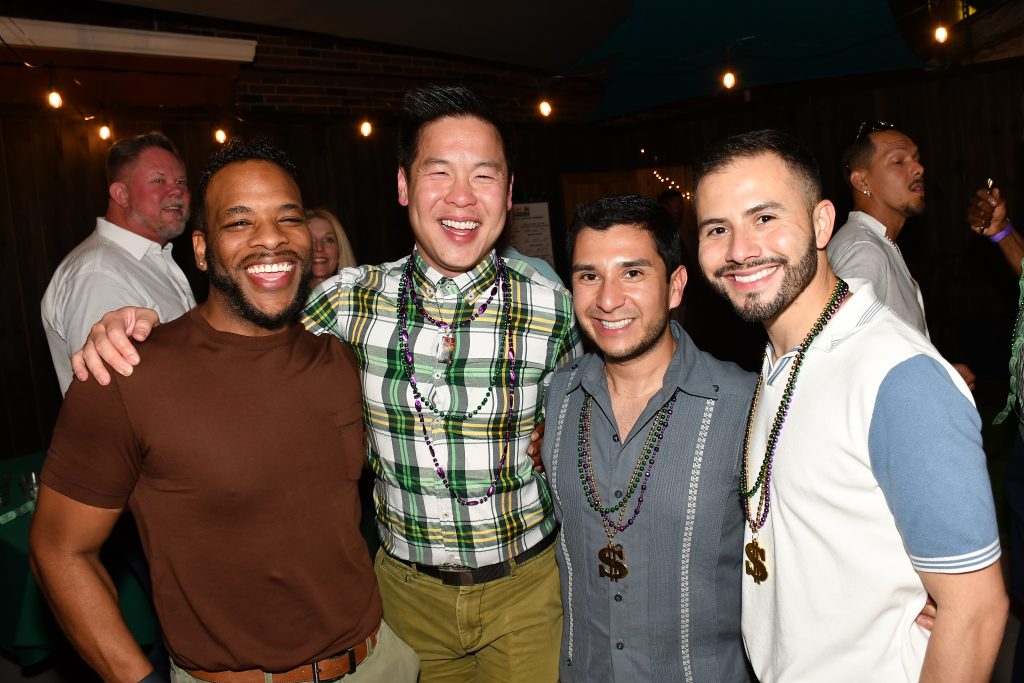 After the main event, guests headed to Catbirds through a private entrance to celebrate the birthday of Chief Development Officer Kennedy Loftin. A special thank you to Catbirds for taking such great care of our guests! Guests also enjoyed performances by Brutus Monroe, Mari Jane, and Barry Mii Dandy, as well as emcee Tip Phillips.
We would like to thank our event committee for making this year's event a success! Members include Chris Robertson, Glenn and Justin Dickson, Paul Brockman and Scott Greenwood, Bill Bulcher and Rob Schmerler, Bob Burress and Tom Seymour, and David Dupre. Thank you also to the volunteers who made the event possible, including a great group from HP!
We would also like to recognize top sponsors of the event: Chris Robertson, Paul Brockman and Scott Greenwood, Glenn and Justin Dickson, Richard Jimenez and Adan Medrano, David Arnold and Karma Burford, Charles Caliva and Kim Gustavsson, Catbirds, Concierge Travel, and Legacy Community Health, who graciously allowed our guests to park at their nearby campus. We could not have done this work without the support of these individuals, our sponsors, and the support of our LGBTQ community in Houston!
Thank you for an amazing Bringin' in the Green this year! Click here if you would like to make a donation. We look forward to seeing you next year!
Thank You to Our Sponsors!
Host
Chris Robertson
Pot O' Gold Sponsors
Paul Brockman & Scott Greenwood
Glenn & Justin Dickson
Richard Jimenez & Adan Medrano
Chris Robertson
Evergreen Sponsors
David Arnold & Karma Burford
Charles Caliva & Kim Gustavsson
Catbirds
Concierge Travel
Legacy Community Health
Shawn Smith
Shamrock Sponsors
The Ballroom at Bayou Place
Bill Bulcher & Rob Schmerler
Brian Dupnick
Michael Freeman
Paul & Leon Guillory
Nice Winery
Southwest Airlines
Rainbow Sponsors
Kevin Begnaud & Dave Riddle
Bunnies on the Bayou
Bob Burress & Tom Seymour
Clark Caperton
Evelyn "Bunny" & Karen Carlson
Corey E. Devine & Marcos Gemoets
Rock Edwards & Todd Shell
Michele Laprade & Jody Morris
Montrose DDS
OutSmart Magazine
Gary Pittman
David Schwan & Paul Wadle
Richard Werner & Tony Bravo
Leprechaun Sponsors
April Ayers & Heather Birdsall Knowlan
Todd Batson & Neal Dacke
Charles Berg & Enrique Guinand
Jack Berger & Kevin Gibson
Black Phlox
James M Carroll, MD
Cas Bridge & Genevieve Graham
Mikel Chamblee in Memory of
Jack O' Hagan Mondin
Cheng Chung
Demi's Dog House
Derek and Janus
The Diana Foundation
Judge Steven Duble
Judson Dunn
EJ Farhood
Kim Felsher
William Finnorn
Friends of the Montrose Center
Kevin Gaudet & Dan Lueken
William S. Gilmer MD
Steve Guthrie
Bryan Hlavinka
Incredible Kidz Daycare & Learning Center
Mark & Shae Jacobs
Kolby & April Kettler
La Fendee Mediterranean Grill
Lavish Lux Photobooth
Wayne Lopes
Ben Manthey
Stephen Miranda & Blake Mudd
Nicholas & Matthew Mitchell-Jones
Randy Mitchmore DDS & Michael Horner
Montrose Detective Agency, PLLC
Todd Partridge & Wes Thomas
Kyle Pierce & Dr. Daryl Shorter
Pride Chorus Houston
Dr. Hytham Rashid
Matthew Schmid
Jim Sikorski
Stan's Hands Massage and Wellness, LLC
Chris Taylor
The Woodlands Pride

Photo Gallery
Enjoy photos from the event below!