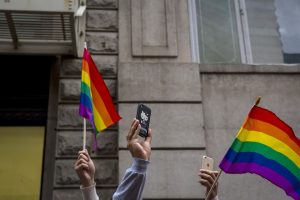 Our Executive Director Ann Robison, PhD was featured in this piece highlighting LGBT Houston after the Houston Equal Rights Ordinance didn't pass.
HOUSTON—Perhaps nowhere is this city's dual identity as a left-leaning metropolis in a conservative state more evident than in the debate over LGBT rights.
Last November, voters here rejected an equal-rights ordinance—the Houston Equal Rights Ordinance, or HERO—that would have prevented employers and landlords from discriminating against people for a number of reasons, sexual orientation and gender identity among them. Yet Houston has an established LGBT community, it elected an openly gay mayor, and it is one of the youngest and most diverse cities in the United States. The defeat left LGBT advocates reeling.
"I think there is an awareness in the city now," says Terri Burke, the executive director of the ACLU of Texas, which supported the proposal. "You know, Houston, we have a problem." While it's certainly worth examining what led to the measure's failure, the more pressing question for Houston's LGBT community is: How does it move forward? "In the short term, we're just trying to help people heal," says Ann Robison, the executive director of the Montrose Center, a local nonprofit that provides mental-health care to LGBT patients. "It was traumatizing."
Read the rest of the article here.