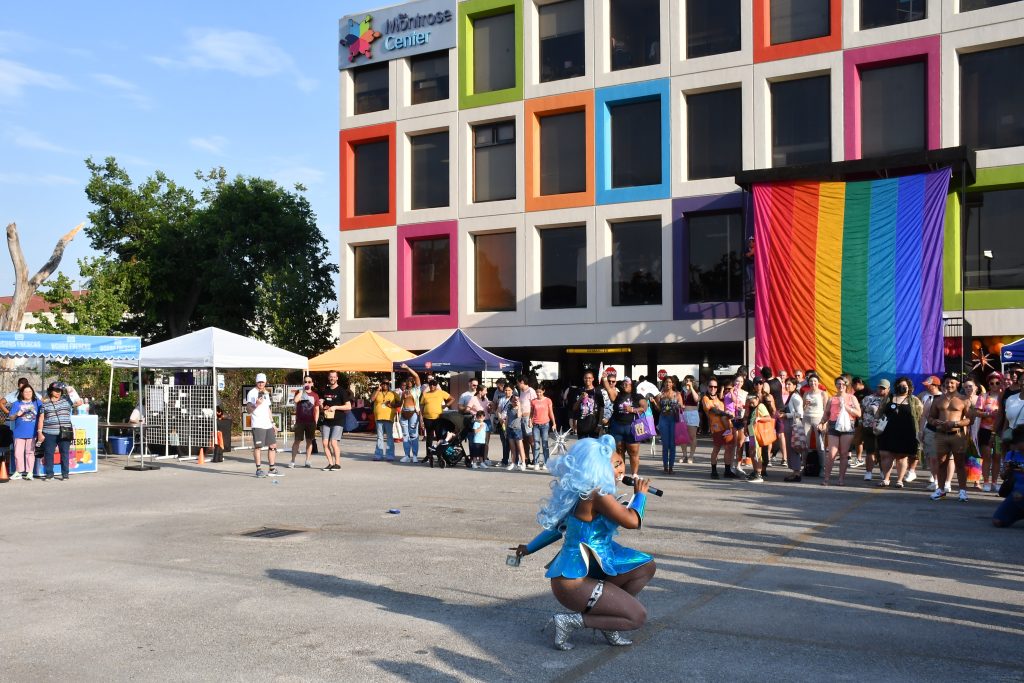 On Saturday, June 17, the Montrose Center kicked off our 45th anniversary festivities and honored LGBTQ+ Pride Month with the Community Pride Celebration. More than 1,000 attendees visited the Center for its largest event since the onset of the COVID-19 pandemic more than 3 years ago. An evolution of the "Big Gay Block Party" held for the Center's 35th anniversary, the Celebration featured more than 60 LGBTQ+ organizations and businesses at the Community Fair, three themed lounges, entertainment by legendary and upcoming local queer talent, a Rainbow Run, Stiletto Sprint, and an LGBTQ+ history exhibit. A 25-foot Rainbow Pride flag hand sewn by the creator of the original pride flag, Gilbert Baker, welcomed attendees into the Celebration and became the perfect backdrop to hundreds of selfies.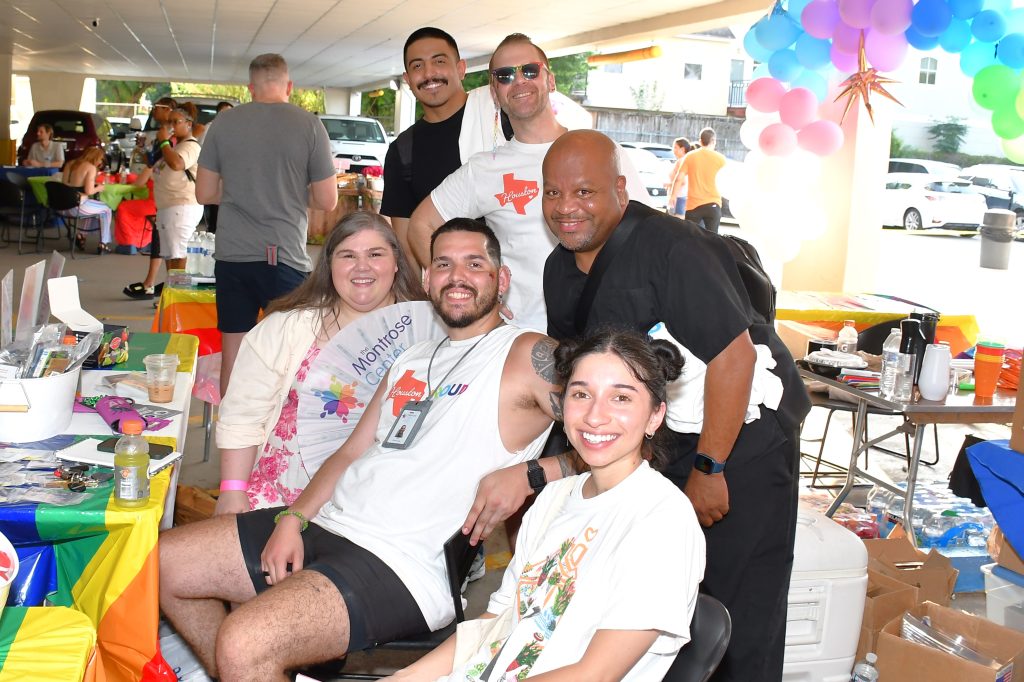 Volunteers from Chevron took great care of the families in our youth lounge, providing balloon animals and other fun crafts. Huge thanks to AARP Texas for sponsoring our senior lounge, where our community heroes could rest from the heat and enjoy refreshments. Our VIP lounge, sponsored by Bruce A. Breeding, hosted sponsors and members of our giving society, the Montrose Society. Our Rainbow Run and hilarious Stiletto Sprint could not have happened without sponsor Corey S. Scranton. Huge thanks to the nearly 100 volunteers who made the day possible, including groups from River Oaks MedSpa and Hess.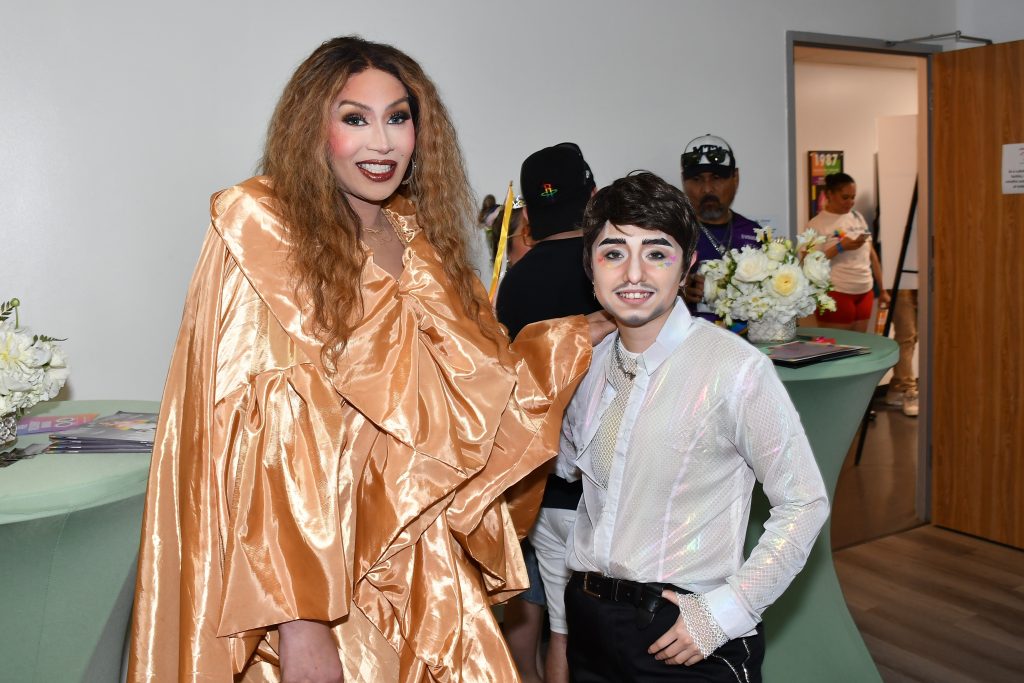 Hosting the Community Pride Celebration was the remarkable Viva Vidalia, and the rest of our entertainment lineup included DJ Twerksum, Barry Mii Dandy, Tati Dior, JOYCON, Xepher Wolf, and Chloe Crawford Ross.
The Community Pride Celebration is one way that the Montrose Center is celebrating its 45th anniversary. The Montrose Center traces its history to June 1978, when Town Meeting 1 was held and William "Bill" A. Scott led a diverse group of people of different professions and backgrounds to develop the concept for an LGBTQ-affirming mental and behavioral health counseling center. The Center opened in September of that year in a two-room office at 900 Lovett and was officially incorporated in the State of Texas in December 1978. Looking for another way to celebration the Montrose Center's 45th anniversary? Please consider joining us at October 6's Out for Good Gala, where we will honor Executive Director Ann J. Robison after 35 years of service upon her retirement at the end of the year.
The Community Pride Celebration was made possible through the generous support of our sponsors with all net proceeds supporting Center operations. Their funds helped ensure the Celebration was free for our non-profit partners and attendees to participate in the festivities and connect with the community.
Thank you to our sponsors!
AARP Texas
One Medical
Bruce A. Breeding
Eureka Heights Brewing Company
Corey S. Scranton
Timothy Edwards
Cruise
Chevron
Stephen Longmire, MD
Silver Eagle Distributors
And to our Community Fair participants!
AARP Houston
Avenue 360
Bay Area Turning Point
Bodine Literary LLC
Botts History Collection
Brazoria County Pride
Breathe with Pride
Brunch Bus
Caroline Brock Creations
Chevron
Clinical Consulting Services LLC
Consulate General of Mexico
Cruise
Dough Cone
Equality Texas
Eureka Heights Brewing Co.
FamilyTime Crisis & Counseling Center
Freedom Church
Harris County Elections Office
Harris County Public Health Dept
Health Equity Research Group – UT Health
Heart of Houston Birth and Wellness Center
HITS Theatre
Houston Health Department
Houston Food Bank
Houston Grand Opera
Houston Pride Band
HPCA (Hyde Park Civic Association)
Human Rights Campaign
Kindred Kitchen
Kona Ice
Legacy Community Health
LGBT Marriage Club
LGBTQ Council on Aging
Life Gift
Lone Star Legal Aid
METRO
Michael's Cookie Jar
Minute Maid
Monica Roberts Resource Council
the Montrose Center
Montrose Grace Place
My Drink Bomb
One Medical
Out for Education, Inc.
Parents of Trans Youth
PFLAG Houston
Positive Living, Houston
POZ Impact
Q+mmunity of UH
Rivkah French Choreography
St. Peter United UCC
Stan's Hands
Starbuck's Coffee
Suja Organic
Sweet Timez Bakery
Tahirih Justice Center
Texas Rising/Texas Freedom Network
TMAH
The Woodlands Pride
UH – LGBTQ Resource Center
UH – Women and Gender Resource Center
Victory Fund
Photo Gallery
Thank you to everyone who celebrated with us. Please enjoy these photos!
Missed the celebration? Check out this video to get a feel for the event. Huge thanks to volunteer Sidney for creating this video!
Check out OutSmart Magazine's photo gallery and coverage of the event.