Gifts In-Kind
Please include the above form with your donation so that we may properly acknowledge your gift, and keep a copy for your records. All donated goods may be delivered to:
401 Branard Street (77006)
Monday through Friday
8 a.m. – 5 p.m.
We cannot accept food items that are older than the expiration, freshness or use-by dates. Please check the dates before donating.
---
Amazon Wish List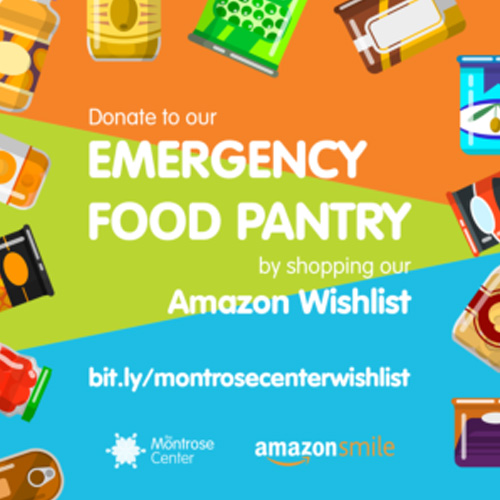 Event & Program Supplies
Paper plates/cups
Plastic utensils
Napkins
Canned/bottled soda
Beverage mixers
Decorations
Wii games
DVD movies
Catering
Senior Lunch Program
5-lb. cans of regular ground coffee
Disposable coffee cups
Sugar, creamer and stirrers
Jigsaw puzzles
Board games
Office Products
Laptop Computers (Windows 7 or later)
Desktop PCs (64-bit multi/dual-core processor 2.0+ GHz, 200GB+ hard drive)
Flatscreen monitors
Laser printers
Pens, markers, highlighters
Copier paper
Binder clips/paper clips
Notebooks / binders
Legal pads
"Sticky" notes
Client Assistance
Gift cards (food/clothing)
METRO bus cards
Toilet paper
Toothbrushes/toothpaste
Medicated shampoo
Menstrual supplies
Soap
Underwear/socks
Shaving cream
Disposable razors
Body lotion
Laundry soap
Unscented deodorant
Bleach
Meal supplement drinks
Peanut butter crackers
Cheese crackers
Snack-size chips or pretzels
Granola or protein bars
Snack-size fruit packs
Bottled water
Non-perishable food items