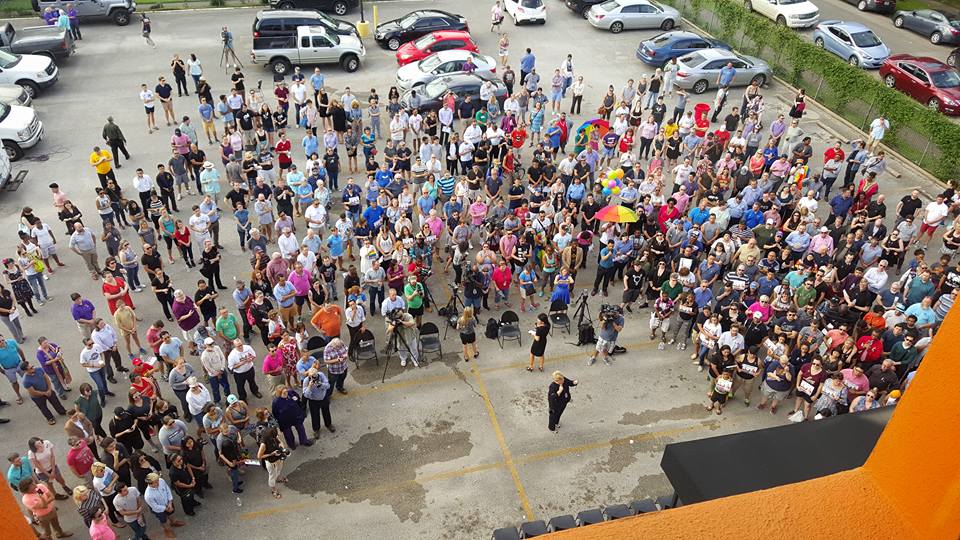 Note: This Op-Ed was originally published in the Houston Chronicle.
All of Houston, and the nation, mourns the death of 49 people, and the injuries of another 53, in Orlando this past weekend. We in the Lesbian, Gay, Bisexual and Transgender community carry a particular pain, and a fear, because we know that those lives could have been any of ours. We know that those beautiful souls were killed dancing in one of the few places where they felt safe to be themselves – Latin Night, at an LGBT club. And we know that they were targeted by the shooter for their sexuality and gender identity. The homophobia that caused him to feel such hatred when he saw two men kissing was taught to him by a culture, ours, that does not yet respect LGBT people.
Our community has always known we are in danger. Our history is full of the attacks: In 1973, the gay club Upstairs Lounge in New Orleans was firebombed, killing 32. Mathew Shepherd's much publicized death in 1998 shocked the nation. Paul Broussard's fatal beating in 1991 outside a Houston nightclub brought the issue home, and the 2014 deaths of lesbian couple Britney Cosby and Crystal Jackson on the Bolivar Peninsula, in which Cosby's father has been indicted, remind us that the violence is not just in our historic past. Ten transgender people were murdered in the first five months of this year, and the FBI reports more than 1,000 hate crimes a year committed against LGBT Americans. And this threat has always disproportionately affected LGBT people of color.
Orlando could have been Houston. And we can never let it be.
Violence against LGBT people comes from violent language against us. It is the inevitable result of hate speech, of the lies told against us, including by our very own elected officials, and preached in far too many of our churches.
And so our work continues. Long after the headlines change, we will be teaching LGBT people are to be respected, need equal protection under the law, and are good and holy before God. We will keep writing to our elected officials, and registering people to vote. We will keep talking to our friends and family, and serving our communities.
And we will keep dancing.
The first Pride Parade in the U.S. in 1970 was a response to violence that the LGBT community endured at Stonewall Inn in New York. When LGBT people are attacked, we march, we sing and we dance. The LGBT community created that first Pride Parade to assert our dignity and our beauty, and we continue marching and dancing every year.
Last year we celebrated, for the first year ever, the Supreme Court decision that brought marriage equality to our great country, and had record-breaking attendance at Pride festivities around the country. This year we return to the roots of the original Pride celebration 46 years ago, celebrating our existence, our survival, our dignity in the face of violence. This year's parade and festival in Houston, scheduled for Saturday, will be more important than ever, and we hope the entire community joins us.
We hope that every LGBT person for whom it is safe to do so will come out to their family, their coworkers and their church. But even more, we hope that our straight supporters will come out for us as well, will wear a rainbow, will tell someone that you love a person who is Gay, Lesbian, Bisexual or Transgender, will make sure everyone knows you believe in equal rights, safety and dignity for all people.
Our community has been targeted. But we will keep loving, keep fighting for our equality, keep coming out as our beautiful selves. We will keep dancing.
Robison is executive director of the Montrose Center, Houston's LGBT community center and one of the largest LGBT centers in the United States. Treash is the senior pastor of Houston's Resurrection Metropolitan Community Church.