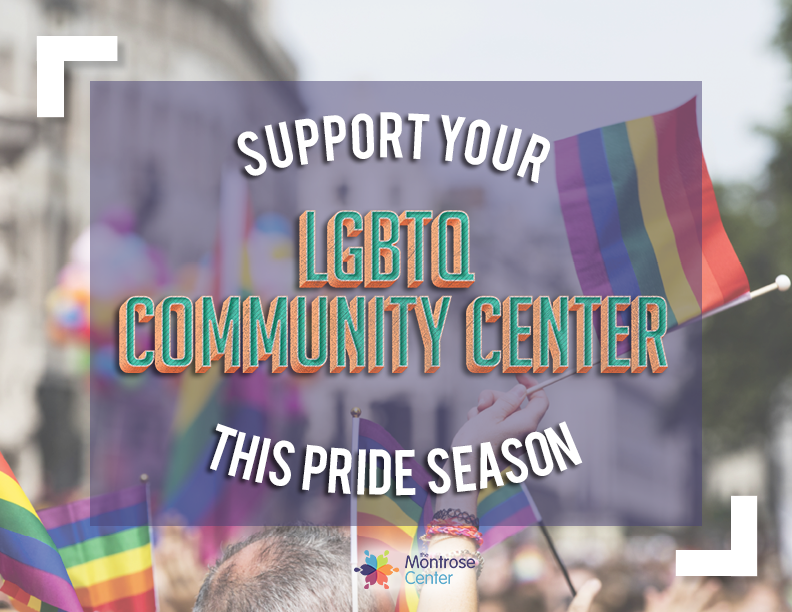 COVID-19 may have changed the ways we can celebrate, but it can never take away our community's
P
R
I
D
E
!
Pride month may be over but the spirit of Pride is with us every day! We thank our many supporters for celebrating with us this year to promote LGBTQ+ rights for all.
---
Past Events
Blue Willow Books & Hatch Youth | Epic Pride with LGBTQ+ Authors Facebook Live Event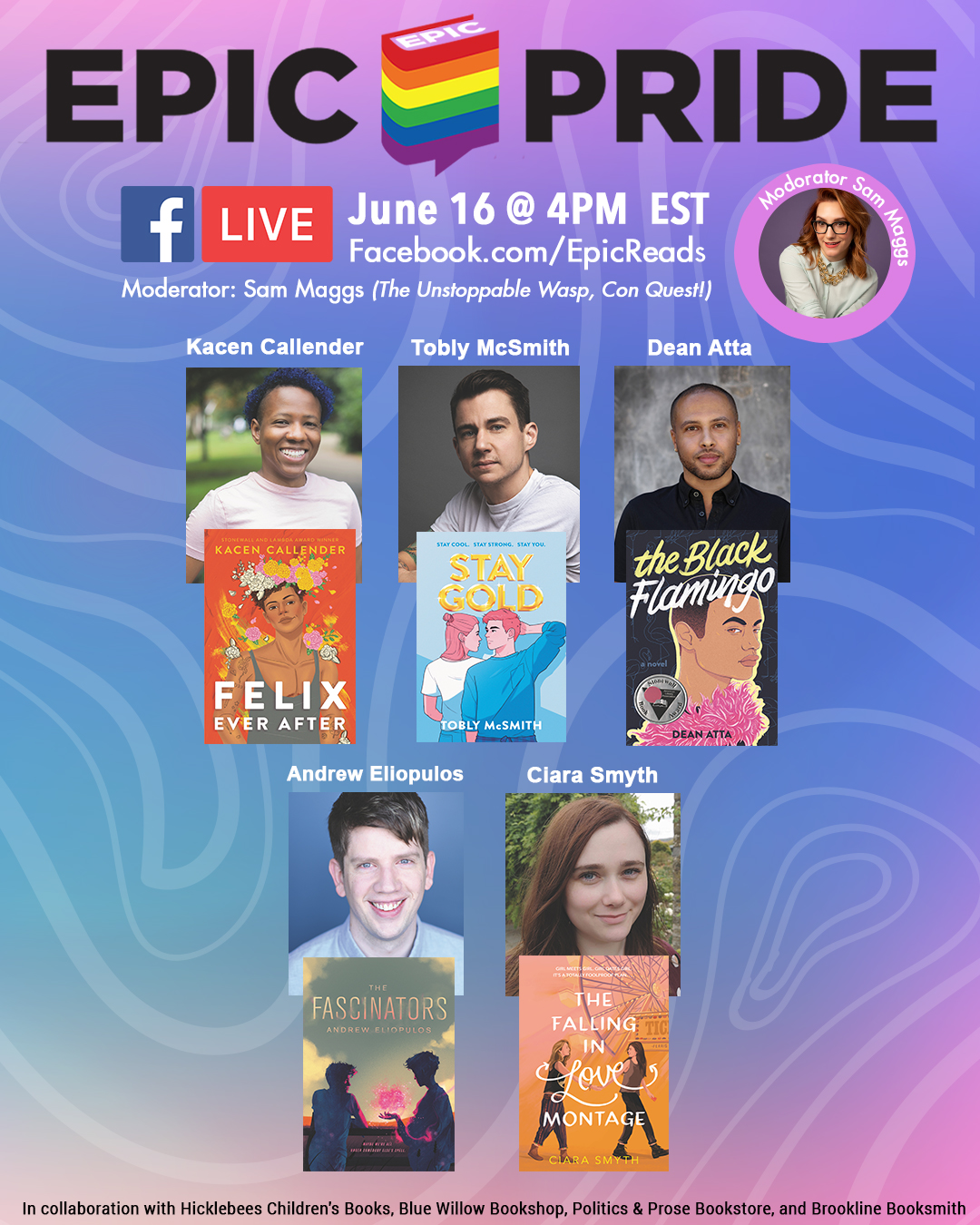 Join us for a talk with 5 LGBTQ+ Young Adult authors to discuss coming out, living as a queer writer, and how writing has the power to validate us at any point in our coming out journey as we search for true acceptance in our lives.
Tune in here on June 16 at 3pm Central!
---
– Thursday, June 25 – 
ADL Southwest Welcomes LGBTQ+ Artist/Songwriter Wrabel | 7pm | Zoom Virtual Meeting: Register Here!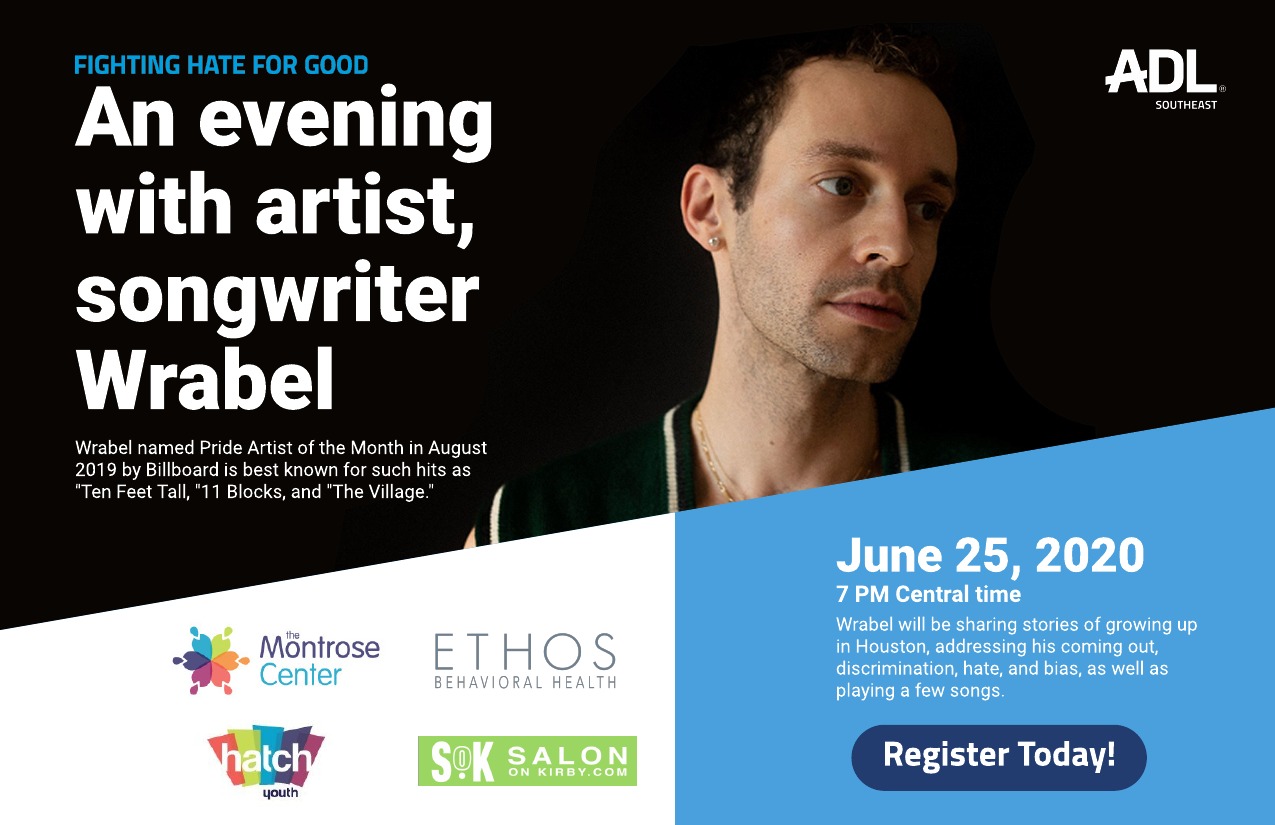 Anti-Defamation League Southwest welcomes artist, songwriter and former Houstonian Wrabel for a casual conversation about life, lessons, and his music!  This free and casual one-hour event via Zoom will include Wrabel sharing stories of growing up in Houston, address LGBTQ+  topics about coming out, discrimination, hate, and bias, as well as play a few songs. 
The Montrose Center is a proud partner of this event! For more information or for advanced notification to RSVP, contact Margi Leven at mlevin at adl.org.
---
– Saturday, June 27 – 
 Pride Houston | It Started With a Riot!: Virtual Rally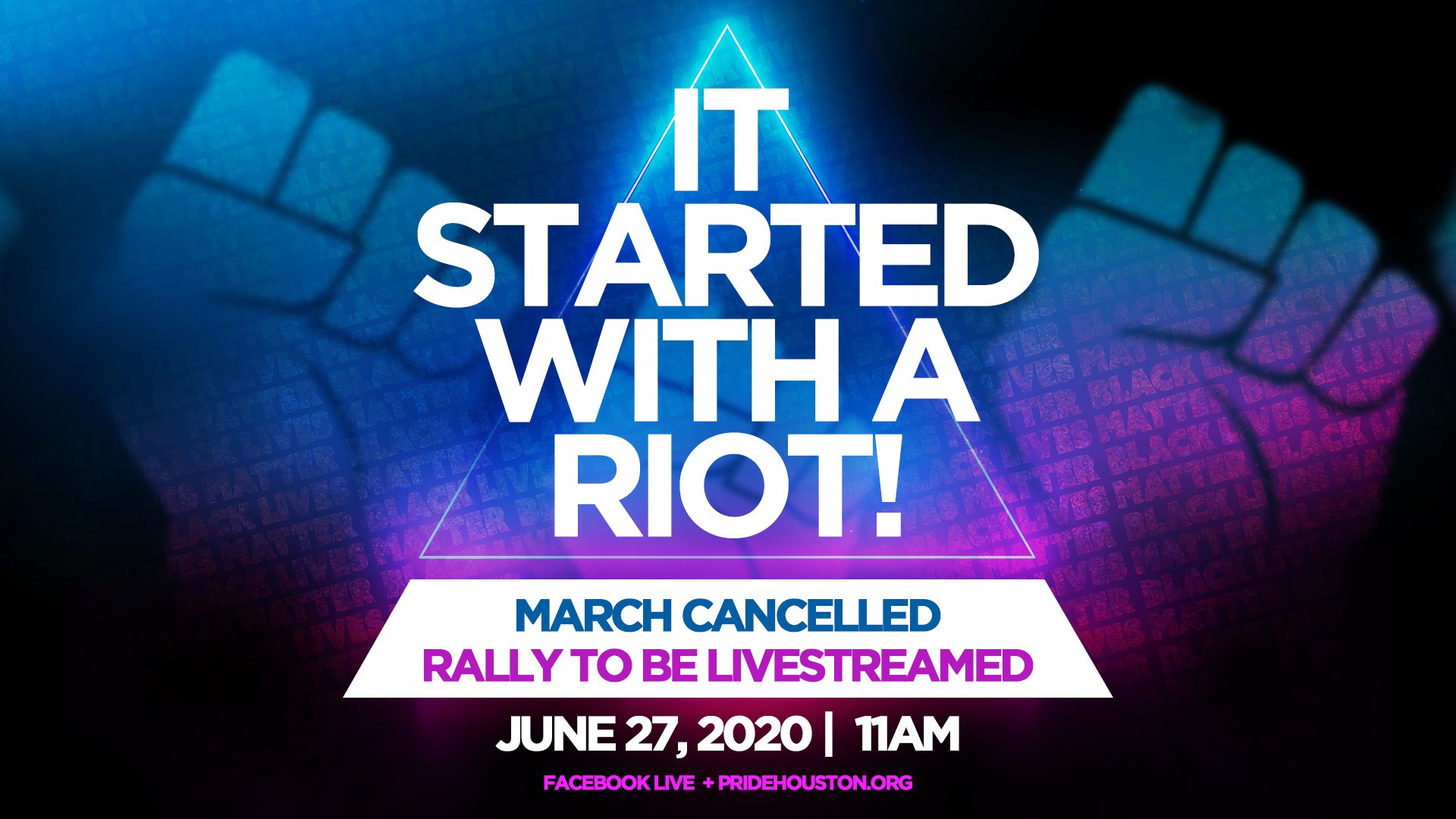 Instead of a March, Pride Houston will hold a virtual Rally this year. In response to recent protests against police brutality and discrimination against Black community members, they will gather Houston's LGBTQ community in support of these causes.
Click HERE to read more about tuning in for the Pride Virtual Rally!
---
– Saturday, June 27 – 
RYDE for a Reason |RYDE – River Oaks Studio
2005-D West Gray HTX, 77019 @ 1:15pm

RYDE Houston will host a Pride spin class on Saturday, June 27th at 1:15pm at their River Oaks studio. Celebrate Pride with RYDE by reserving you bike for a donation of $10, $15, or $25!
Donations from reservations will benefit the Montrose Center!
Sign up for RYDE for a Reason HERE!
---
– Saturday, June 27 – 
Pride Work Out Day and Benefit | Crossfit H-Town
1919 Silver Street HTX, 77007 @ 9am 
CrossFit H-Town invites you to join and support the LGBTQ Community in Houston by "WODing" together and helping to raise funds. Bring your brightest Pride attire and get ready for a live DJ, refreshments, and BYOB for a fun (socially distant) workout!
Funds raised will be given to Hatch Youth at the Montrose Center!
Register by clicking HERE!
---
– Saturday, June 27 – 
Pride Row Classes & Benefit |Crew Fitness Houston
715 W 22nd Street HTX, 77008 @ 9am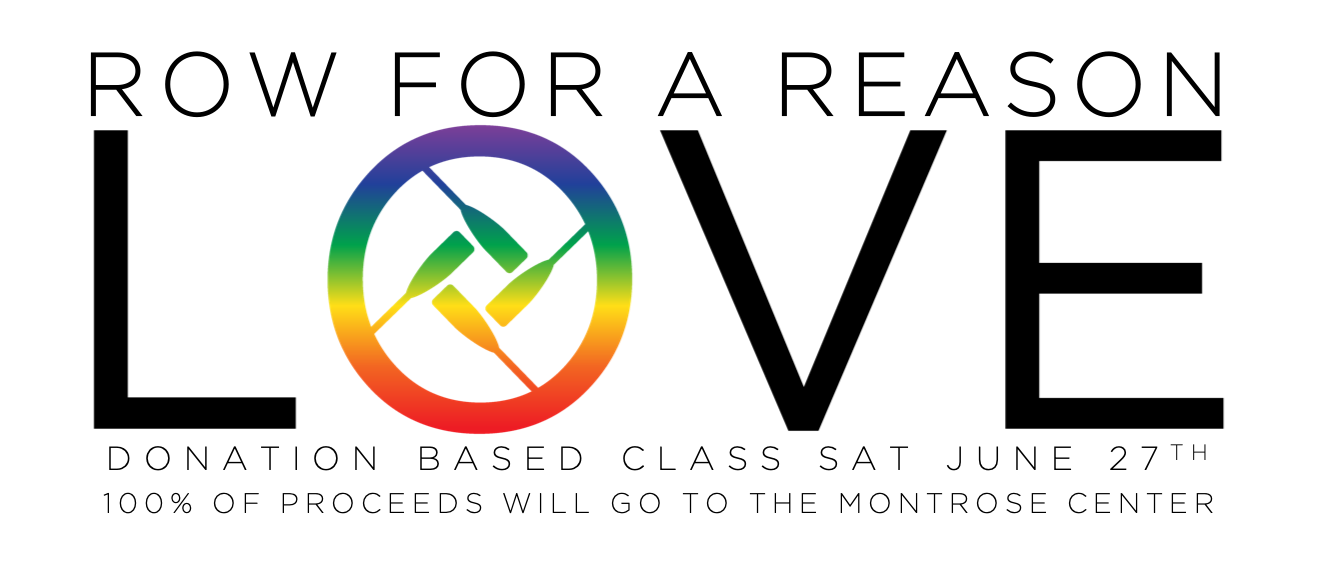 Crew Fitness Houston is excited to celebrate Pride 2020 in support of the Montrose Center! They will host a series of Pride rowing classes on Saturday, June 27th and are holding an online benefit as well! Give any amount and receive free admission to a rowing class!
100% of funds raised from Row Classes benefit the Montrose Center!
Donate HERE & learn more about their Pride classes HERE!
– Events Throughout the Month – 
#GayItForward – Together in Pride Benefit for COVID-19 Relief
Click here or Text GAYITFORWARD to 44321!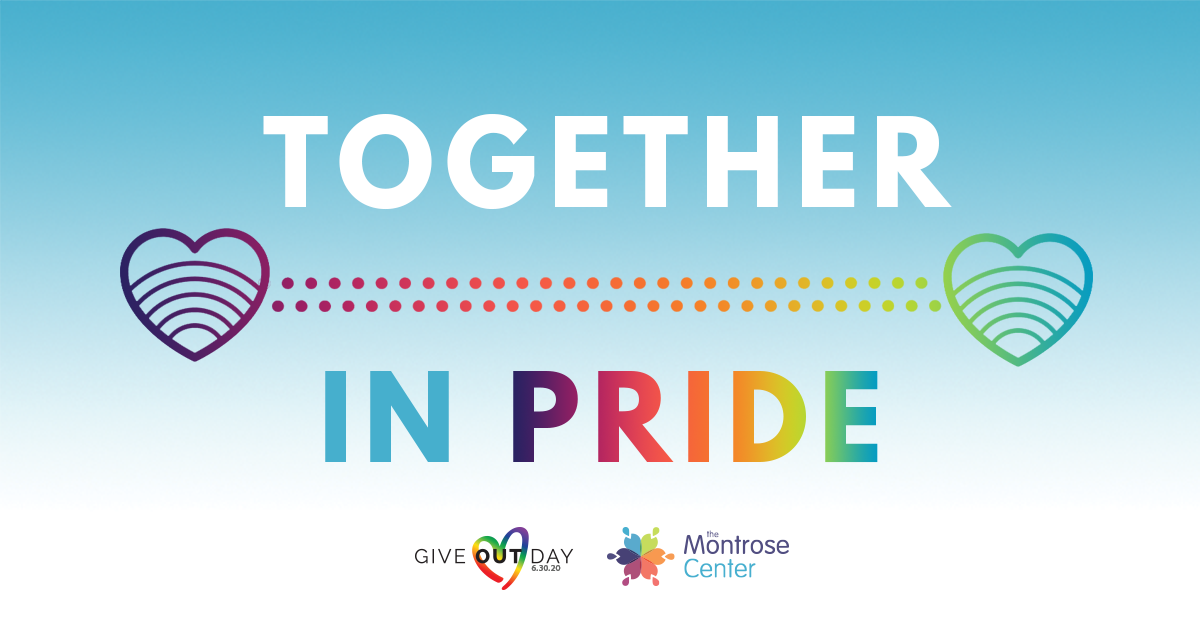 Virtually, anything is possible! Please join us in coming together for those who are struggling due to COVID. Please consider a donation to #gayitforward to vulnerable members of our community. Give today, and your gift will be matched dollar for dollar! A generous donor will match up to $15,000 in our Together in Pride Campaign. 
Your gift will provide local LGBTQ COVID Response & Relief, including:
Emergency Financial Assistance
Housing for LGBTQ homeless youth and violence survivors
Shelf-stable food for LGBTQ seniors
Mental health support & therapy for those in crisis
Workforce development activities for those who are unemployed
Ready to make your gift? Click here or Text GAYITFORWARD to 44321!
---
Lavender Bunny Brew Pride Benefit | Eureka Heights Brewing
Online Ordering & Curbside Pick-up Available NOW!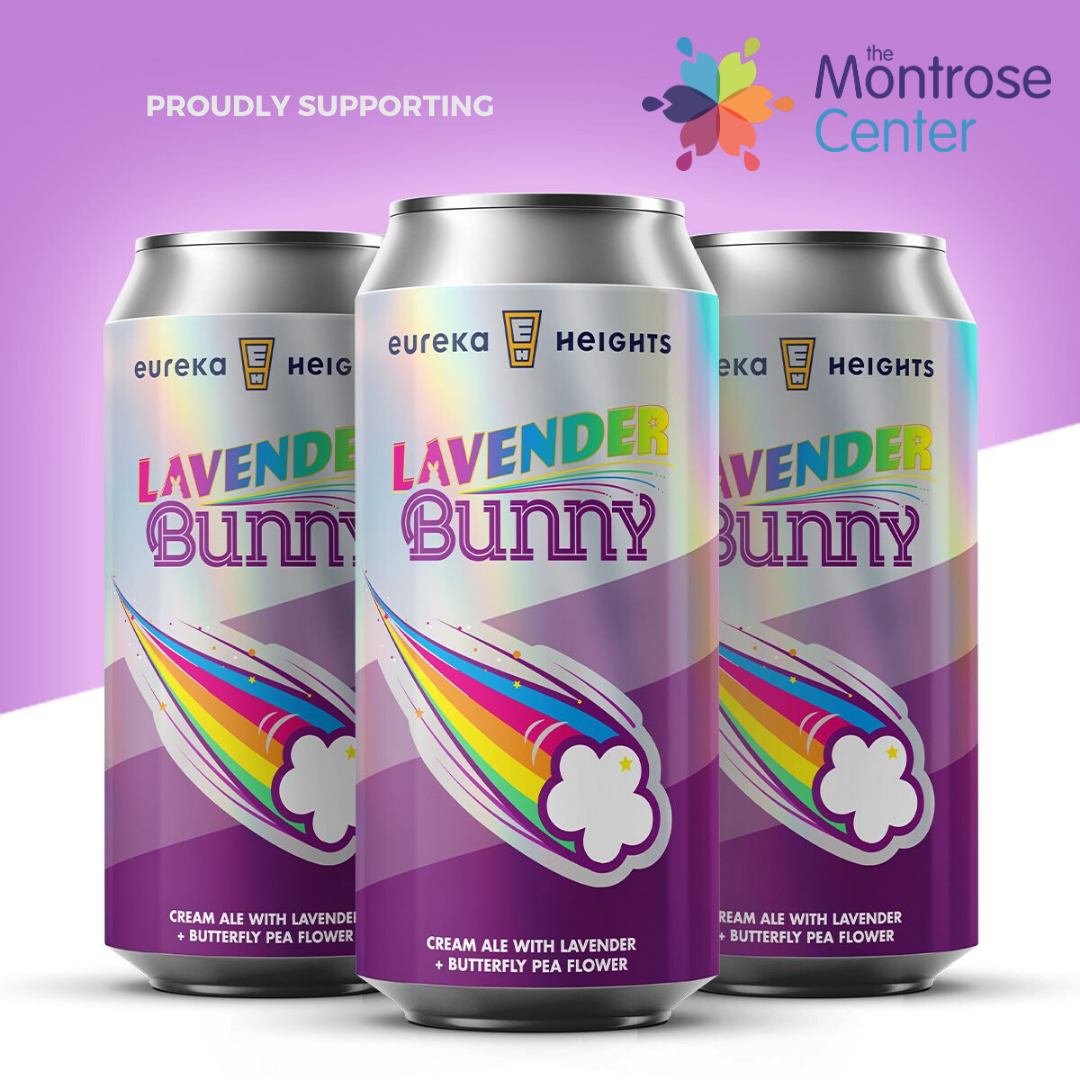 Eureka Heights presents a wonderful summer libation, just in time for Pride Season 2020. We present to you…Lavender Bunny! The name alone makes you want to try it, but you will be so glad you did! With its stunning purple hue, it is just as fun to look at as it is to drink! 4-packs will be available by curbside pickup.
$2 from every Eureka Heights Lavender Bunny 4-pack sold will be donated to the Montrose Center!
Order yours NOW at eurekaheights.com! These will go fast!
---
Michael's Cookie Jar | Pride Gift Pack | Order Online!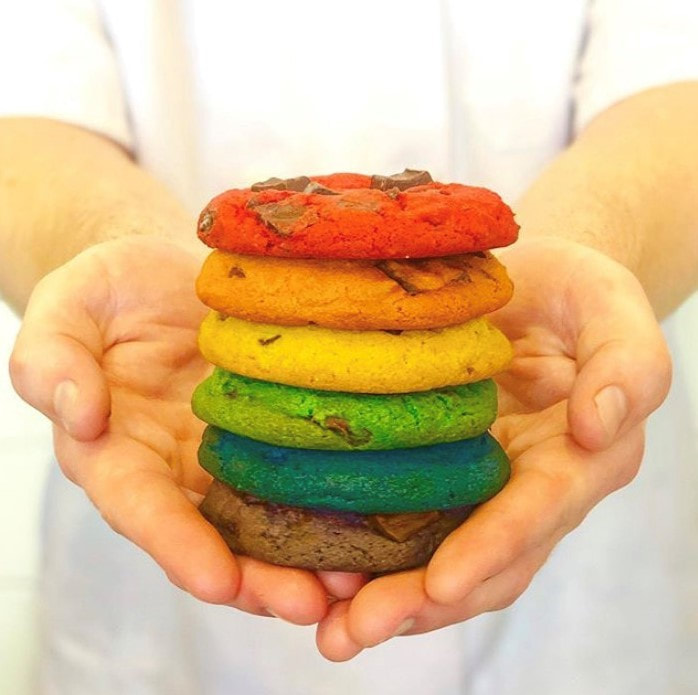 These JUMBO 3oz Chocolate Chunk cookies are the epitome of pride….and deliciousness!! Your 6-pack of rainbow cookies come packaged in a clear box and tied with a rainbow ribbon.
15% of every Pride gift set sold will benefit the Montrose Center's Hatch Youth program!
Order yours today by clicking HERE!
---
Mysterious by N.P.N. | Pride Design Shirt Sale |  Available Now!
Celebrated Fashion Designer Nicholas Phat Nguyen who was featured on this June's cover of OutSmart Magazine has designed an exclusive new t-shirt in celebration of Pride!
These very limited designs are now available to all.
Click here to order yours today!
Proceeds from all Mysterious by N.P.N. Pride shirts sold will benefit Hatch Youth!
---
Houston Artist Edgar Medina: Rainbow Print Sale | Order Online!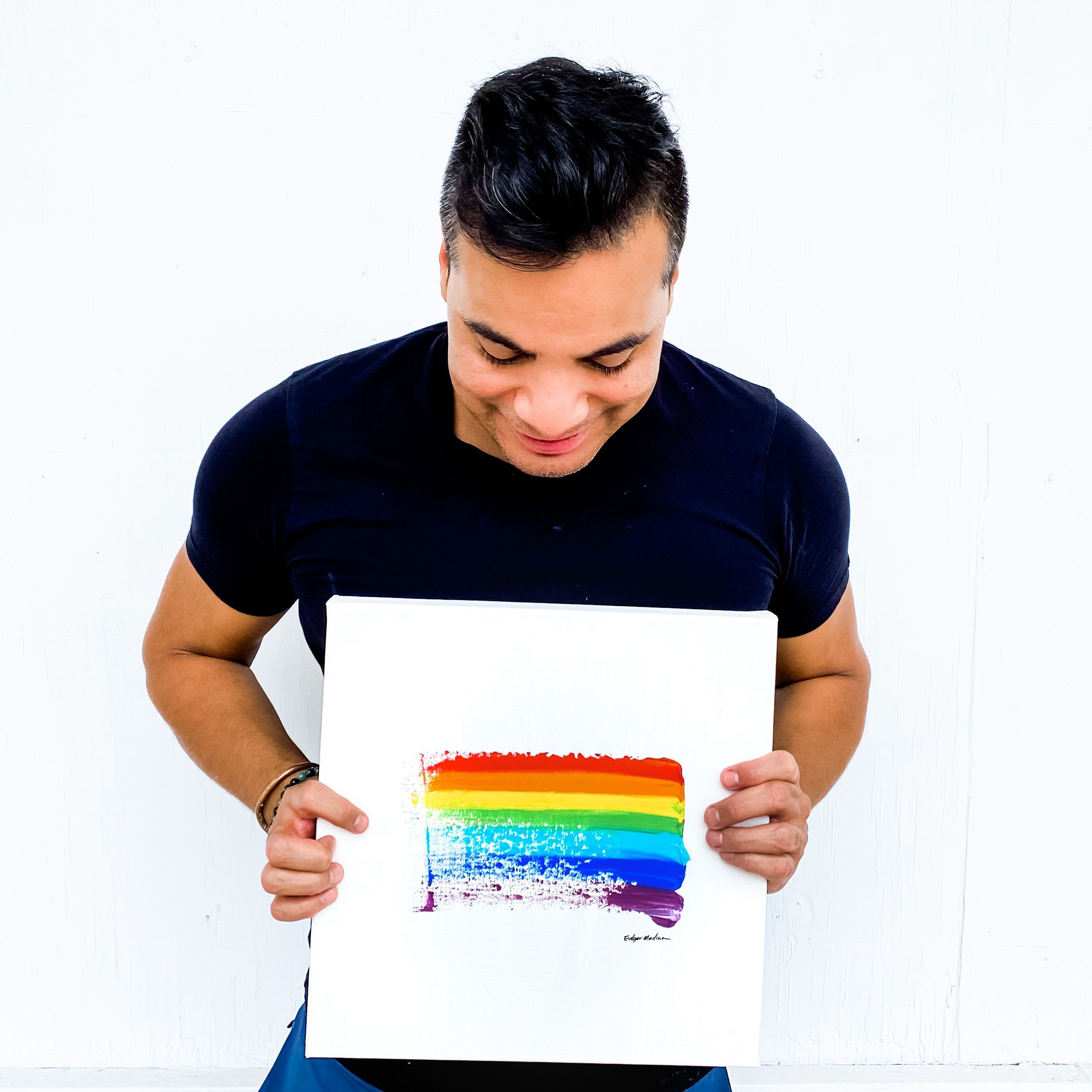 Edgar Medina, Houston-based painter and gallery owner, has created a special painting this year to help in spreading in the visual reminder of our story in times when we are not as visible. A limited print and merchandise series will be available to anyone who wishes to own this wonderful, limited edition print!
In honor of Pride Month, Edgar will donate 50% of proceeds from all rainbow prints andmerch sold to the Montrose Center! 
Buy your very own print or merch with this beautiful piece HERE!
---
Platypus Brewing | #CraftBeerIsForEveryone T-Shirt Sale |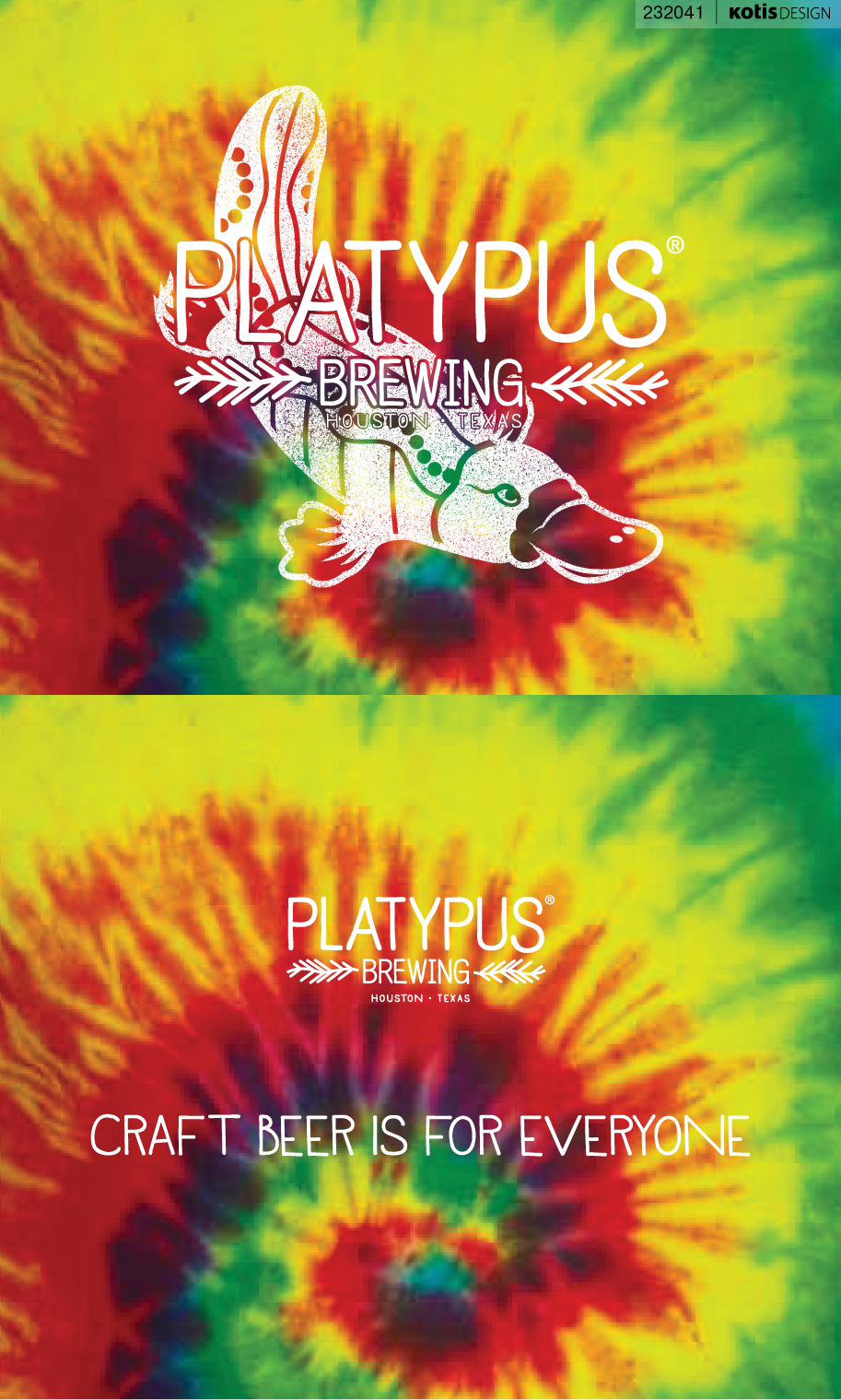 Our friends at Platypus Brewing have brought their Pride shirt back this year to the delight of craft beer lovers everywhere! Shirts feature their logo and a slogan you'll be proud to don, set on a background of psychedelic rainbow tie-dye!
Proceeds from all Pride shirts sold will go to the Montrose Center! 
Buy yours HERE!
---
Dessert Gallery | Pride Bake Sale |  Order Online! 

Dessert Gallery is offering up a wide variety of Pride treats available for order. From LOVE WINS cookies to cupcakes, chocolate dipped pretzel sticks and more, there is truly something for everyone on the menu!
5% of all Pride treat sales will go to the Montrose Center! 
Check out their full list of Pride desserts HERE!