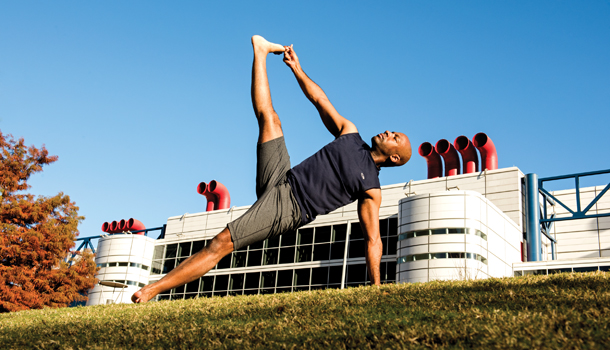 Houston psychiatrist Darryl Shorter, MD (above) is in fine form as January's OutSmart Magazine cover model for a feature about Houston's growing LGBT-inclusive yoga movement [icon name="external-link" class="" unprefixed_class=""]. Darryl, also a member of the Montrose Center's board of directors, is one among several community volunteers—including Beckie Kirsch, Venita Ray, Darrin Brindle, Robin Mack, and Kathi Crawford—who generously provide beginners' yoga instruction every Monday at 6pm here at the Center.
The sessions are free, so if you are looking to try something new in 2016 to build up your mind, body and spirit, you have absolutely nothing to lose! We have yoga mats, so don't let that detail slow you down. In fact, all you need is yourself in comfortable workout wear (e.g., sweat pants and a T-shirt will do fine), a towel, and a water bottle. And if you forget, the Equal Grounds Café & Snacketeria will be open before the session to make sure you stay hydrated, and for refreshment after cool-down.
Still on the fence? Know that the sessions are designed specifically for novice participants, and we welcome all shapes, sizes and levels of ability. And because we have multiple instructors, you'll get exposure to different yoga styles and approaches each week.
Namaste, and we hope to see you this coming Monday!
Jump to OutSmart feature [icon name="external-link" class="" unprefixed_class=""]